University of Pennsylvania students recently competed for $135,000 in prizes in The Wharton School's 2021 Venture Lab Virtual Startup Challenge. The competition invited student teams from across the Penn community to present their start-up ideas. In response, Penn students from the Wharton School, The College of Arts and Sciences, The School of Engineering and Applied Science, Penn Carey Law, Perlman School of Medicine, and Penn Nursing submitted business plans.  Out of 29 semi-finalists, eight finalists made their pitches at the final virtual event on April 30, 2021.
Clear Admit's co-founder, Eliot Ingram, attended the virtual event and offered the following insights:
"I was very impressed with the quality of the start-up teams and the quality business ideas presented at the Virtual Startup Challenge. I also liked that the teams drew from students from many schools within the university, not just business school. It really showed the collaboration among students from different programs."
"There were a lot of really neat ideas presented. For example, a Penn Nursing student presented Lumify Care, which sells a wearable LED light that allows nurses to check on patients in darkened rooms without waking the patient. In fact, Lumify won a Launch Award. Welltrip offers a great way for people to save money on expensive medical procedures by identifying low cost and high quality providers overseas and then booking the trip like a vacation package. One of the most popular presentations was from RinSalt, which provides a decontamination solution for firefighters. They got a lot of buzz in the comments section from alumni who are or who have served as firefighters."
The Eight Finalists
Here is a list of the eight finalists who presented their ideas at the virtual event.
3Cor Bio: Developed a low-cost, rapid, and highly accurate diagnostic platform targeting multiple infectious diseases. (Team member: Ranjan Pati, C21, W21)
CoverForce: The online insurance shop-front developed by agents for agents. (Team member: Cyrus Karai, WG21)
Felix: A chat-based digital platform that empowers Latinos in the US to send money abroad. (Team members: Bernardo Garcia, G21, WG21; Manuel Goody, WG21)
Lumify Care: A nursing student created the first-ever wearable LED light for frontline healthcare workers, allowing them to illuminate workspaces while decreasing patient sleep disturbances by 70%.
Nouri: For expecting families with pregnancy challenges (e.g. conceiving, symptoms, recovery), Nouri provides an Eastern food therapy meets Western nutrition meal plan to help moms feel better at each stage. (Team members: Irene Liu, WG22; Jennifer Doro)
RinSalt: Developing an on-scene decontamination system to combat firefighter cancer. (Team members: Isaac Kalapos, ENG21; Kevin Leeb, ENG21; Cristian Constantin, ENG21, GEN21)
Welltrip: A healthcare marketplace that allows travelers to search through accredited and peer-reviewed healthcare services abroad. (Team members: Ike Okonkwo, G22, WG22; Patrick Prommel, G22, WG22)
Xoma: Founded by two Wharton MBA students, Xoma is the first social impact distilled pulque agave brand to enter the US marketplace. They are selling across the US, and support a farm cooperative in Mexico that uses ancient traditions and sustainable farming.
The Winner
After the 8 presentations concluded, the judges spent about 15 minutes deliberating.  They then announced the winners for different prize categories.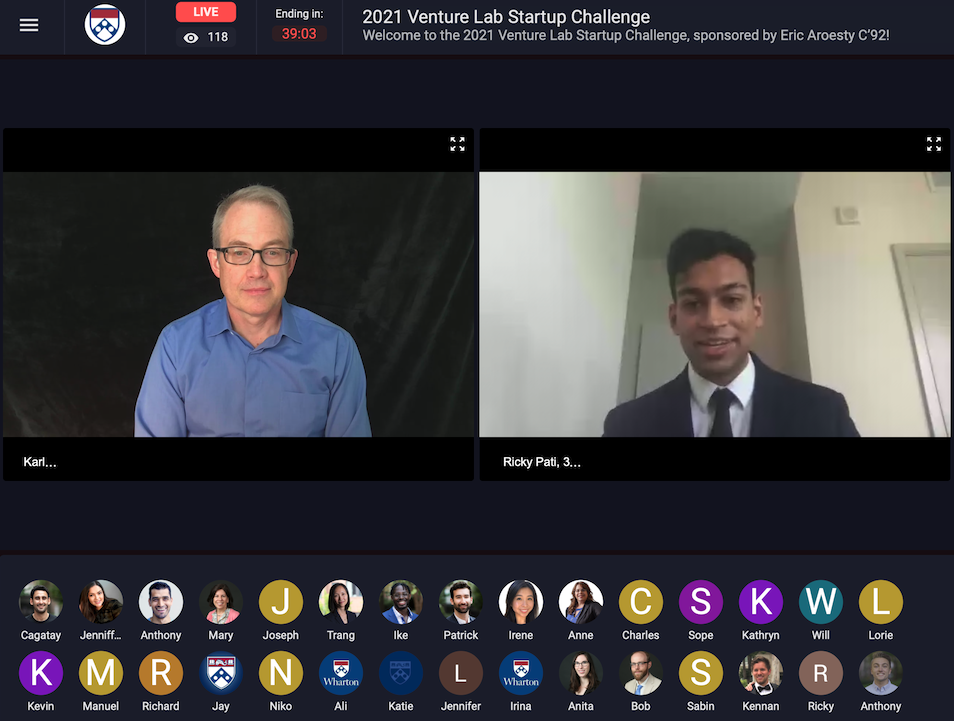 The judges announced that 3Cor Bio, founded by Ranjan Pati (C'21, W'21) won the fifth annual Startup Challenge. 3Cor Bio produces low cost, accessible diagnostics for infectious diseases, including a COVID-19 diagnostics device. With just a small saliva sample and a smart phone, 3Cor Bio's diagnostic platform provides a COVID diagnosis within four minutes with 97% accuracy costing $4.67 per test.
Additional 2021 Startup Challenge winners include:
Perlman Grand Prize: $30,000 + $15,000 in legal, accounting and strategy services to 3Cor Bio.
Runner-up: $15,000 + $15,000 in legal, accounting, and strategy services to CoverForce.
Innovation Award: $10,000 + $15,000 in legal, accounting, and strategy services to Félix.
Launch Prize: $10,000 + $15,000 in legal, accounting, and strategy services to Lumify Care.
Frederick H. Gloeckner Award for Best Undergraduate Team: $10,000 3Cor Bio.
Robert S. Blank New Venture Collaboration Award: $10,000 to Altrui Rx.
Jacobson Social Impact Prize: $10,000 to Critical Health Information Integration Network (CHIIN).
AI for Business Award: $10,000 to Félix.
Weiss Tech House Audience Choice Award: $5,000 to RinSalt.
Eliot says, "I am pleased that the judges selected 3CorBio for the grand prize. They have an impressive team offering a diagnostic solution that seems quite relevant given the current pandemic. In summary, it was a well run event that really showcased the great entrepreneurial ideas coming University of Pennsylvania  students."
See the full press release here.