The Kelley Full-Time MBA Program is #3—Best MBA for Marketing (The Princeton Review, 2021) and one of the Best Business Schools for Marketing (Clear Admit, 2019-2020). Kelley MBA students make exceptional professional connections and lifelong friendships, too.
When students major in marketing in the Kelley MBA program, they have numerous ways to customize their experience and to develop expertise. They have dual majors and minors to choose from, such as business analytics and entrepreneurship and corporate innovation. They can immerse themselves in business-to-business marketing or consumer marketing with Kelley's industry-focused Business Marketing Academy and the Consumer Marketing Academy. And they can join student-led clubs and organizations for more experiences and connections.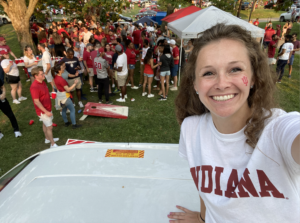 When students come to Kelley for marketing careers, they join a supportive, welcoming community that's committed to their success. Sara E. Googasian, MBA'22, is majoring in marketing and pursuing minors in management and finance. A Forté Fellow, Sara also received the Judith Norman Davis and Kim G. Davis MBA Fellowship.
"From my background in real estate marketing, I knew I wanted to continue in the marketing field but pivot from real estate into consumer packaged goods. Kelley has a particular strength in marketing and brand management, and one unique aspect of the Kelley program is the Academies curriculum. Academies provide students with exposure to industry leaders, practical foundations and frameworks for approaching business needs, as well as hands-on experience solving real-world problems. I was a member of the Consumer Marketing Academy (CMA).  Throughout my time in the CMA, I consulted with large conglomerates like ConAgra and was exposed to industry leaders, such as Proctor & Gamble's Chief Brand Officer and Kelley alumnus Marc Pritchard,"  Sara said. 
She, like other students, has tapped Kelley's diverse and highly engaged community to accelerate and advance her career. 
"At Kelley, I'm in class with peers who are going into many different fields: investment banking, marketing, consulting, product management, and more. This is the network that I'm building at Kelley, and I couldn't be more appreciative of the opportunity to study, invest time, and build community here."
Sara hopes to lead a Board of Directors to utilize her skills to guide non-profit organizations or to design and execute a brand marketing strategy for a new product from inception to market launch. Her ambition is an impressive reminder of Kelley's legacy as the MBA program for leaders in marketing.  She, like other MBA candidates, is on her way to an impactful career with the help of a thriving community and world-class MBA program.