In this edition of our Admissions Director Q&A series, we welcome Eddie Asbie, Executive Director of Admissions & Financial Aid at the Samuel Curtis Johnson Graduate School of Management at Cornell University. Eddie has spent the past 17 years of his professional career in higher education, primarily within the admissions field. Over the last nine years, he has called Ithaca and Johnson home. Eddie's responsibilities have included helping develop the Two-Year and One-Year Residential MBA programs, along with recruiting the U.S. Military, underrepresented population, and dual degree candidates.  Read on for his insights into the leading MBA program, what to expect during the interview and more.
Clear Admit: What is the one aspect of your program that you wish applicants knew more about?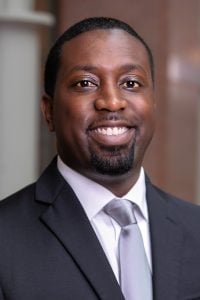 Eddie Asbie: Johnson's incredible immersion-learning program provides first-year students with an intense, hands-on semester of integrated and experiential coursework related to a particular industry or career interest.  Presented in spring semester, immersions tee students up for internship success in fields like consulting, tech, investment banking, corporate finance and strategic operations, and lay the groundwork for a second year of remarkable complementary curricular and co-curricular opportunities.
Second-year students can undertake intensives in Fintech, digital marketing and sustainable global enterprise, leveraging opportunities across Cornell's Ithaca campus as well as at the Cornell Tech campus in the heart of New York City. The result is an MBA that is personalized and positioned to enable students to accelerate their careers and maximize their unique impact on business and the world.
CA: Will the applicant experience look different this year due to COVID-19? Will prospective students have the opportunity to visit campus? 
EA: Johnson's classes are back to meeting in person, and we hope to welcome candidates to campus for the spring 2022 semester. In the meantime, we are welcoming applicants for virtual class visits and a variety of events such as our Ask Admissions series and one-on-one and group consultations.  Our Events Page provides various opportunities to have a firsthand experience with our admissions team and members of our community . The heart and soul of our community is our students and we encourage candidates to reach out to current students through our Community Search Tool to learn more about the student experience.
Walk us through the life of an application in your office from an operational standpoint. What happens between the time an applicant clicks "submit" and the time the committee offers a final decision (e.g. how many "reads" does it get, how long is each "read," who reads it, does the committee convene to discuss it as a group, etc.)?
Each applicant is assigned an application coordinator who is responsible for processing applications and making sure all necessary documents are complete. Our coordinators are the main point of contact and happy to assist and answer questions during the process. Once a candidate's application is complete, a full and comprehensive review is conducted and includes an assessment of academic readiness, professional preparedness, and fit. Members of our team spend a significant amount of time on each individual application to get a better understanding of the candidate's qualifications. After a complete and thorough review, the committee member recommends one of the following actions: interview, waitlist without interview, or deny.
For those who complete the interview, the interviewer provides a write up of the individual's candidacy and preparedness for MBA studies. The admissions committee then meets to discuss the overall profile relative, as it relates to the applicant pool. This will then allow for a final decision. Learning more about a candidate's qualification and enthusiasm for our program is one of the best aspects of my job.
CA: How does your team approach the essay portion of the application specifically? What are you looking for as you read the essays? Are there common mistakes that applicants should try to avoid? What is one key thing they should keep in mind as they sit down to write?
EA: The essay is one of my favorite parts of the application, as this allows candidates to self-reflect on their goals, accomplishments, and ambitions. Our team enjoys reading every candidate's unique story and understanding how having an MBA will enhance their career.
This year, candidates will have the opportunity to share their thoughts through the Impact Essay. The Johnson community truly values meaningful relationship and seeks for members of the community to give back during their journey. This essay gives candidates the opportunity to highlight ways they see themselves making an impact in our community. In the application, the essay reads as follows  "At Cornell, our students and alumni share a desire to positively impact the organizations and communities they serve." Taking into consideration your background, how do you intend to make a meaningful impact in an elite MBA community? (350 words maximum).
Some of the most common mistakes we see from candidates are indicating another school in the essay or being too vague and general in responses. We hope candidates take time to fully understand the questions and articulate what an MBA will mean to them and why they are making a significant investment toward education and career advancement. We hope candidates use their authentic voice to share their stories and how they see themselves making an impact.
CA: Could you tell us about your interview process? Approximately how many applicants do you interview? Who conducts the interview (students, admissions officers, alumni) and what is the nature of the interview?
EA: Our interview is an evaluative process to help get a clear picture of an applicant, along with their readiness for an MBA. Our interview is a 30-minute conversation during which we connect with candidates and hear their stories. Candidates should use this opportunity to highlight their experience and what makes them unique. This aspect of the application is where a candidate has time to elaborate further on what was mentioned in the application and an opportunity to share why the MBA makes sense. We encourage candidates to review our materials online so that they are well versed with background about our program. Interviews are invite-only where the interview is conducted by a member of our admissions team or our Two-Year MBA students, who are members of the Johnson Admissions Group (JAG).
During the admissions season, we host various Johnson Leadership Exploration days (LEAD) led by our Leadership Programs team. These types of events provide an opportunity to meet candidates who are interested in being considered for some of Johnson's most prestigious scholarships. The scholarships include the Park Fellowship and requires an additional essay. As the preliminary review is conducted, candidates who qualify may receive an invitation to attend one of our events. Candidates who are not invited to a LEAD event are still considered for competitive merit-based scholarships. Candidates who apply and are invited to one of our virtual Fall Diversity Events are guaranteed an interview if they apply by our January round.
CA: Tell us briefly about two notable professors at your institution (ideally one student favorite, and one up-and-coming).
EA: Vishal Gaur: Professor Vishal Gaur has been a faculty member for over 10 years at the Samuel Curtis Johnson Graduate School of Management. He teaches elective courses on SQL, digital operations, retailing, and the Semester in Strategic Operations Immersion course. He loves to engage with students outside the classroom in the High-Tech Club, Big Red Consulting, and the Johnson Diwali celebrations. Professor Gaur's research and teaching are focused on achieving operational excellence through better processes, analytics, and technology. Currently, he is studying traceability in supply chains in collaboration with a blockchain startup and matching in online marketplaces in collaboration with a global B2B marketplace firm.
Shawn Mankad: Shawn Mankad is an assistant professor of operations, technology, and information management at the Samuel Curtis Johnson Graduate School of Management, where his research focuses on the intersection between data analytics and economic decision-making using machine learning techniques. His studies aim to create and apply data mining, machine learning, and visualization techniques for economic modeling with unstructured and complex structured data. Prior to joining Johnson in 2015, Professor Mankad was an assistant professor in the Robert H. Smith School of Business at the University of Maryland.
CA: Is there anything else you'd like to highlight about your MBA program or admissions process?
EA: The Johnson Cornell Tech 1+1 Pilot- Johnson and Cornell Tech are piloting a "1+1" MBA program in which a select group of students will spend a full year on each of Johnson's two campuses. Students will begin in Ithaca, NY as members of Johnson's Two- year residential MBA program. After completing their first year, and a summer internship, students will spend their second year at the Cornell Tech campus in New York City. This exciting pilot program combines two vaunted experiential learning experiences into one MBA: Immersions in Ithaca, and Studio curriculum at Cornell Tech. At current, this program is primarily geared towards students interested in careers in the technology industry or with entrepreneurial aspirations.
Sustainable Global Intensive: Building on over 15 years of program innovation in business and sustainability, the MBA program at the Samuel Curtis Johnson Graduate School of Management is updating and expanding its award-winning experiential learning curriculum with new course offerings that will now extend to all residential program students. Previously limited to first year MBA students as part of the school's immersion program, the new Sustainable Global Enterprise (SGE) Intensive enables all one and two-year MBA students to develop a practical understanding of sustainability issues in the context of business, as well as strategic business decision-making in the context of sustainability. Sustainability literacy is fast becoming a critical skill for managers as all industries grapple to address pressing social and environmental issues, including climate change and social justice. The SGE Intensive, which includes a new course on SGE in Practice as well as a new course on Advanced Topics in Business and Sustainability, will continue to focus on helping students develop experience in using sustainability as a driver of business growth and innovation.