Welcome back to WireTaps!  On this Martin Luther King Day, Alex and Graham take a moment to recognize the enormous contributions made by Dr. King before turning their attention towards the latest MBA application news.  Round 2 application deadlines have passed for all the top MBA programs except for MIT / Sloan; Alex discussed the advantages this might provide Sloan, year on year. Graham then highlighted the new Real Humans pieces Clear Admit has published for Boston College, UT / McCombs and Vanderbilt / Owen. Graham also noted the new employment report for Northwestern / Kellogg, which led to a discussion on trends regarding industry and geography – a topic Clear Admit is going to be prioritizing over the next several months…
As always, your hosts tackled three candidate profiles: sourced from two ApplyWire entries and a DecisionWire entry.
First up, a Dartmouth grad who has worked for 11 years in Japan. He's worked on several entrepreneurial ventures, most recently setting up a language school. A super GMAT and fascinating experience helps, but he will really need to show fit and that he plans to fully engage during his MBA experience. Next, Alex selects a Syrian American chemical engineer who has worked in the petrochemical industry and wants to move to consulting and sustainability. She also has a passion for advocacy work and is currently in the midst of a 'gap year' to pursue that passion (while applying to b-school). Finally, from DecisionWire, Graham and Alex break down the dilemma for a candidate who is weighing offers from Chicago / Booth, Cornell / Johnson, Yale SOM and NYU / Stern – with varying scholarship amounts. The admitted student is from West Africa and is seeking to enter Investment Banking. Your hosts also give credit to the contributions from the community on DecisionWire for this entry!
Dartmouth grad with 11 years of work experience in Japan:

Syrian American chemical engineer looking to transition to consulting:

West African candidate weighing offers from Booth, Johnson, Yale and Stern, for Investment Banking: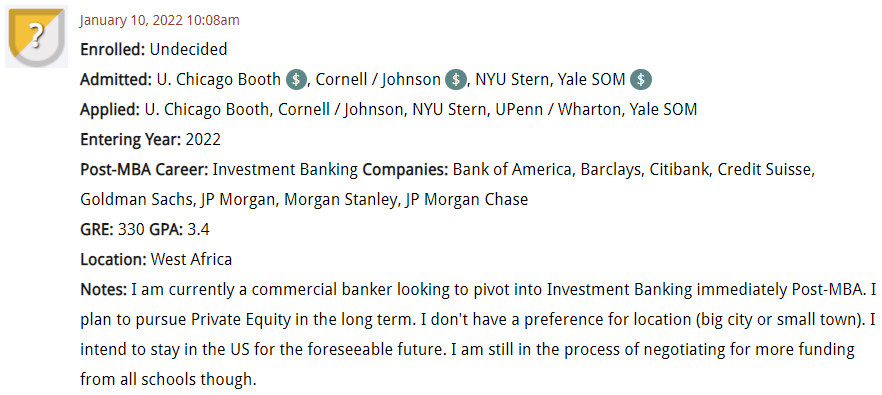 Happy listening!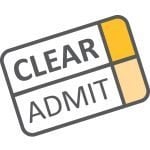 Be sure to post to MBA ApplyWire, MBA DecisionWire or MBA RankingsWire if you'd like Graham and Alex to offer admissions advice.
If You Like What You've Been Hearing, Please Subscribe and Rate Us on Apple Podcasts!
It's been wonderful seeing the audience for our podcast series continue to grow! Please, if you have enjoyed what you've heard, could you rate and review the Clear Admit MBA Admissions Podcast in Apple Podcasts? This is the best way to help more listeners find us. Also, to ensure that you never miss an episode, please subscribe to the podcast on whatever platform you use.
This episode was hosted by Graham Richmond and Alex Brown, and produced by Dennis Crowley. Thanks to all of you who've been joining us!