Deloitte, perhaps best known as a "Big Four" accounting firm, is also the largest healthcare consulting company in the world by revenue. So when Alex McNair, Emory Goizueta MBA '18, decided to pivot from higher ed fundraising to consulting, the firm was a natural destination. He now advises life sciences and healthcare clients. In this edition of Real Humans – Alumni, Alex talks about how the MBA prepared him for his new role and why he loves working at Deloitte.
Alex McNair, Emory Goizueta MBA '18, Consultant at Deloitte
Hometown: Frederick, Maryland
Undergraduate Institution and Major: The University of Alabama, Health Sciences
Graduate Business School, Graduation Year and Concentration: Emory Goizueta Class of 2018
Pre-MBA Work Experience: Four years in higher education fundraising
Post-MBA Work Experience: Four years in consulting at Deloitte 
Why did you choose to attend business school?
I wanted to pivot from higher education to the corporate world, so I felt like a business education would help me do that.
Why Emory Goizueta? What factors figured most prominently into your decision of where to attend?
Goizueta was the school for me due to size, location and access. I wanted something small, but not too small. I also knew I loved Atlanta from having lived there previously, and I appreciated the strong relationships Goizueta has with all major employers. 
What about your MBA experience prepared you for your current career?
For me, business school taught me to think differently. In each class, you learn how to approach problems in a structured, analytical and inquisitive way, which has served me perfectly in consulting. 
What was your internship during business school?  How did that inform your post-MBA career choice?
I interned at Deloitte and then returned following graduation. 
Why did you choose your current company? What factors figured most prominently into your decision of where to work?
I was looking for a place where I would be challenged and work with the brightest while not feeling like I was competing with my colleagues. Deloitte is extremely collegial and collaborative, and I learn something new every day. I was also recruiting for Human Capital Consulting, and Deloitte is the clear destination for that type of work. 
How has COVID–19 impacted your industry/career plans?
To be honest, I'm not sure I would still be in consulting had COVID-19 not happened. I always loved everything about the company and almost everything about the job, but the weekly travel was just not for me. Now that we are only traveling when it matters, my entire outlook has changed. I see myself here for the rest of my career now, which is not something I would have not said just two years ago.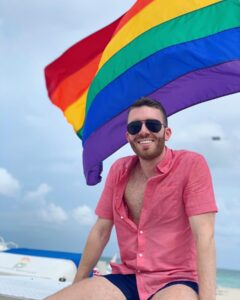 Advice to current MBA students:
–One thing you would absolutely do again as part of the job search?
Target your search and focus on the places you really want to work. People fall into the trap of recruiting anywhere and everywhere just for the sake of doing so, and that's exhausting.
–One thing you would change or do differently?
Trust my gut more. I was interviewing at a few places just based on their prestige, but I didn't actually want to work there. In hindsight, this was a waste of my time and energy. 
–Were there any surprises regarding your current employer's recruiting process?
Not really, but there was one pleasant surprise: What I saw when I recruited is what I got when I joined. Everyone was so nice and helpful when I recruited, and that is true about our culture as well. There was no "putting on a show" just to recruit people. 
–What piece of advice do you wish you had been given during your MBA?
Take classes outside your core areas of interest. Every course offered is relevant to almost any future career in some way, so don't feel like you have to only take the courses that directly check the boxes of what you're recruiting for.