In this edition of our Admissions Director Q&A series, Steve Thompson, Senior Director of Admissions at Northwestern University's Kellogg School of Management, digs into the many offerings at the school as well as insights and tips about the Kellogg application. As the leader of Full-Time admissions, Steve is focused on attracting the best and brightest candidates to Kellogg's portfolio of Full-Time MBA programs. Steve has played a critical leadership role at Kellogg since January 2018, when he first joined the team as director of the Executive MBA Program. Prior to Kellogg, Steve worked at IE Business School as the Executive Director of the International MBA Program.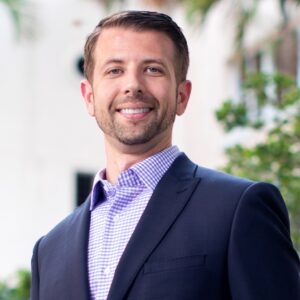 Get the inside scoop on the Kellogg application, degree offerings and much more about their MBA admissions below.
Clear Admit: What is the one aspect of your program that you wish applicants knew more about?
Steve Thompson: A unique benefit to Kellogg's full-time MBA program is the flexibility combined with the portfolio of programs that positions us to find the option that is best suited for each student. Kellogg offers five distinct programs for pursuing your full-time MBA – all of which have been intentionally designed to fit students' personal and professional interests. Students in all programs have access to our world-class faculty, career management coaching, global opportunities, and exceptional network of 65,000+ strong alumni.
Our full-time MBA degree portfolio includes:
2Y MBA: Our traditional MBA program, where students build a solid, cross-functional baseline of knowledge in core business disciplines and then hand select from nearly 200 electives to customize their experience. The combination of this breadth of courses along with an internship is optimal for students looking to make career pivots into new industries and/or functions.
1Y MBA: A one-year program for candidates who have completed a few prerequisite business courses. This enables students to bypass several core courses and dive immediately into electives that align directly with their professional objectives. This option is perfect for those who want to minimize their time away from the workforce and have a clear vision for where they want to pivot/advance their career upon graduation.
MMM: In just one additional quarter to the traditional 2Y program, this dual-degree program provides students the opportunity to earn an MBA and an MS in Design Innovation from Northwestern's Design Institute. Focused on the intersection of business, design and technology, it's the ideal program for those interested in product management, innovation, and design consulting roles.
MBAi: MBAi is designed to prepare professionals to drive strategic business innovation while understanding the complex nuances of the technology that enables it. The unique curriculum includes machine learning, robotics, computational thinking for business, fintech, introduction to the frontiers of science and technology, and how data science and artificial intelligence are driving innovation. This fast-paced, five quarter programs includes a full-time summer internship and an industry immersion in the San Francisco-Bay Area. Students will receive a joint MBA degree from both Kellogg and the McCormick School of Engineering.
JD-MBA: In just one additional year to the traditional 2Y program, students earn an MBA from Kellogg and a JD from Northwestern's Pritzker School of Law. Our JD-MBA students value the ability to earn these two degrees from Northwestern's world class programs in just three years given it would require five years to complete them individually
Regardless of the program, you will have the benefit of taking classes with students across all five programs. Our students value the convergence of these different perspectives because it provides yet another opportunity to learn from the diverse experiences of other students in the Kellogg community. 
CA: Walk us through the life of a Kellogg application in your office from an operational standpoint. What happens between the time an applicant clicks "submit" and the time the committee offers a final decision?
ST: By the time an applicant clicks submit, we understand that they've put extensive time and effort into the Kellogg application. With that in mind, we thoroughly review each application to best understand the experiences and motivations of our candidates.
Following the Round 1 deadline on September 14, all applicants will be invited to submit optional video essays. While they are an optional component of the application, we find these videos to be a valuable opportunity for candidates to tell us more about their story and experiences, beyond their application.
In addition to the video essays, we strive to interview as many candidates as possible and collaborate with our wonderful alumni to help achieve this objective.
All of these inputs come together to create a holistic review process that enables us to understand not just what a candidate hopes to get out of their MBA, but also what they will bring to the experience of other students and the Kellogg community as a whole.
CA: How does your team approach the essay portion of the Kellogg application specifically? What are you looking for as you read an essay? Are there common mistakes that applicants should try to avoid? What is one key thing they should keep in mind as they sit down to write?
ST: We are looking to get to know candidates beyond their test scores and resumes. The essays are a terrific opportunity to go beyond what you do for a living and show us "the how" and "the why." We want the essays to be authentic and encourage applicants to avoid a generic response.
Our first written essay question asks candidates to reflect on how they relate to Kellogg's purpose: Kellogg's purpose is to educate, equip & inspire leaders who create lasting value. Tell us about a time you have demonstrated leadership and created lasting value.  What challenges did you face, and what did you learn?
Our second written essay is the following:  Values are what guide us in our life and work.  What values are important to you, and how have they influenced you?
At Kellogg, we're very transparent about the six criteria we evaluate potential students on: (1) intellectual ability, (2) work experience, (3) professional goals, (4) leadership, (5) impact, and (6) interpersonal skills. The most difficult trait to evaluate continues to be leadership.
Leadership can be demonstrated and described in many different ways by applicants, but we're specifically looking for examples of spearheading change, striving for excellence or creating a legacy in one's organization. We want our students to be the kind of people that aim to leave a lasting mark on their companies – before Kellogg and throughout the rest of their career.
Our goal is to uncover the details of what motivates and inspires our applicants – what drives them when they get up every morning. How will this make them meaningful members of our community at Kellogg? How will it shape the kind of leader they will become one day? We're confident that these essays will help our team identify the candidates who will thrive at Kellogg.
My advice is for candidates to avoid telling us what they think we want to hear. Make sure your essay represents you and only you – is what you are conveying broad and lacking in substance, or are you giving us concrete insights into how you think and work? If it's the latter, your essay is probably on the right track.
Each question will have a limit  of approximately 450 words. We recognize these questions are thought provoking and the limited word count can prove to be a challenge. But we value the ability to communicate in a clear, concise, and compelling manner.
CA: Could you tell us about your interview process? Approximately how many applicants do you interview? Who conducts the interview (students, admissions officers, alumni) and what is the nature of the interview (resume-based, behavioral)?
ST: Because collaboration is such an important part of the Kellogg culture, we seek to interview as many applicants as possible. Though, while we highly value the interview, it is just one piece of getting to know an applicant.
Interviews are conducted by students, alumni and admission officers. We will continue to have virtual interviews this year. 
CA: What is your testing policy?  Do you offer exam waivers?  Why or why not?
ST: Every year we review our application process to ensure that it is providing us with the best opportunity to get to know our prospective students. We review our applicant pool with a rigorous, holistic evaluation approach and remain committed to bringing together a diverse class of top talent that embodies Kellogg's values.
Kellogg's application requires a GMAT or GRE score and for those whose native language is other than English (and did not earn a degree from an accredited institution where the language of instruction is English) a TOEFL or IELTS score is required.
CA: Tell us briefly about two popular courses at your institution.
ST: The Science and Strategy of Bias Reduction: This course focuses on how biased decision-making can prevent organizations from fully leveraging the talents of employees from diverse backgrounds. It provides the tools to understand how bias can shape decision-making in organizations, as well as individual-level and organizational-level strategies to reduce any negative impact.
Analytical Consulting Lab: This experiential course provides students the ability to apply their analytics skills to help real clients use real data to solve real problems. Projects include a wide range of analytic techniques and touch on many industries and aspects of business management.
CA: As we learn to live with COVID-19, campuses have opened up and students are back. What about prospective students? Will they have the opportunity to visit campus? Will admissions interviews be conducted virtually?
ST: In addition to virtual campus visits and virtual events, our admissions team will be traveling to several cities to engage with applicants in person. Check out our Admissions Events Calendar to find the opportunities that work best for you.
We also have a variety of upcoming events where you can visit the campus in-person and engage  with current students.
CA: Is there anything else you'd like to highlight about the Kellogg application, MBA program or admissions process?
ST: Kellogg develops leaders who can combine the power of analytics, creativity and innovation to lead teams and companies through today's rapidly evolving marketplace. Our graduates gain the skills needed to be empathetic, meet unexpected challenges and lead diverse groups.
Our admissions process utilizes a strong, holistic evaluation process and assesses a candidate's abilities on many factors such as: academic accomplishments, professional experiences, leadership potential, to name a few.