Clemente Reyes-Retana sought a mix of tech and finance in his MBA program, hence he chose Columbia Business School to propel his career into the tech industry at Amazon. Read on for his story, as he shares insights into the interview process at Amazon, advice for MBA candidates and more in this Real Humans: Alumni.
Clemente Reyes-Retana, CBS MBA '19, Sr. Product Manager – Technical, Financial Technology at Amazon
Age: 31
Hometown: Mexico City, Mexico
Undergraduate Institution and Major: Instituto Tecnológico Autónomo de México (ITAM), Bachelor of Business Administration (BBA)
Graduate Business School, Graduation Year and Concentration (if applicable): Columbia Business School MBA 2019
Pre-MBA Work Experience (years, industry): 5 years in Financial Technology / Finance
Post-MBA Work Experience (years, industry): 3 years in Financial Technology

Why did you choose to attend business school?
I saw business school as a great opportunity to keep building my managerial and technical capabilities to break into a large tech firm. Learning from peers and professors who had worked in the space seemed like a great opportunity to accelerate my career.
Why CBS? What factors figured most prominently into your decision of where to attend?
Columbia was the best place to achieve my goals in the financial technology industry. I wanted to be surrounded by industry leaders and a technology-first curriculum with a strong focus on financial service innovation. Additionally, being at the center of the world's top financial center – New York City – was quite valuable for networking in-person with companies and practitioners. 
What about your CBS MBA experience prepared you for your current career at Amazon?
Columbia Business School pushed me to learn and dive deep into fields I was interested in such as business analytics, innovation, and programming. Building up my skill set helped me become a better product manager – a role that requires constant technical knowledge and creativity to invent and simplify on behalf of customers.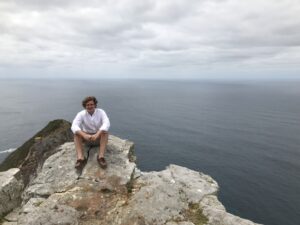 What was your internship during business school?  How did that inform your post-MBA career choice?
I interned at software developer, ConsenSys, which gave me hands-on experience building predictive capabilities for decentralized finance applications. I really enjoyed working closely with software and business intelligence engineers on production rollouts and systems architecture design. ConsenSys helped me assess that I wanted to be working with technical products post-MBA.
Why did you choose your current company? What factors figured most prominently into your decision of where to work?
I chose Amazon for its peculiar culture, amazing tech talent and the ability to work with industry-defining products at massive scale. Working as Sr. Technical Product Manager, I get to own an exciting fintech product area servicing millions of 3rd-party businesses selling products on Amazon.
Advice to current MBA students:
–One thing you would absolutely do again as part of the job search?
What really helped me in my job search was knowing exactly which industry I wanted to work in post-MBA before arriving at Columbia Business School. Having a clear vision helped me get a head-start and prepare for the companies and roles I was interested in.
–One thing you would change or do differently?
Use my classmates more. A couple of prep interview sessions with peers who have worked in the company you're interviewing for can make quite a difference. I was a bit shy to ask for help initially, but once I got over it, I was able to get real-time feedback on what I was doing well and where I could improve.
–Were there any surprises regarding your current employer's recruiting process?
Yes, Amazon's interview process is quite different from other firms. There's a strong emphasis on Amazon's 16 leadership principles and the STAR interview framework. 
–What piece of advice do you wish you had been given during your MBA?
I wish I had made it a goal to reach out to 3-5 industry practitioners a week via LinkedIn. I did not use this channel much until my last semester and I was extremely surprised to see how receptive people where in chatting with me, especially Columbia alumni.