Director of MBA Recruitment and Admissions at IMD, Anna Farrus, joins us for this installment of our Admissions Director Q&A series. Anna started at IMD business school in 2018. She oversees MBA recruitment and admissions and, earlier this year, took on the additional role of heading up the Career Development Center. Prior to her current role with IMD, she worked in admissions for two other European b-schools, IESE Business School and Oxford Saïd.
Read on for her insights into IMD, what to expect in the admissions interview, how to write a strong application and more.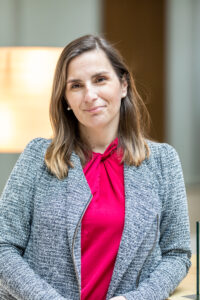 Clear Admit: What is the one aspect of your program that you wish applicants knew more about?
Anna Farrus: The leadership stream. While we talk about it a lot and try to highlight its power, I think it's only when you actually experience just how integrated it is into the whole program and have begun to see the results in team exercises, projects with companies and your own self-awareness, that you realise its impact. Many students start their sessions with a psychoanalyst feeling fairly ambiguous, but then about half way through everything starts to fall into place and come together, and it's great to see their confidence grow.
CA: Walk us through the life of an application in your office from an operational standpoint. What happens between the time an applicant clicks "submit" and the time the committee offers a final decision?
AF: Once an applicant hits the submit button, the journey begins. Our admissions team does the standard verifications and we start trying to understand who the applicants really are. Those whose profile fits our requirements are invited for an assessment, either online or in person. This gives them a chance to meet us and start to experience the IMD 'style' and it also gives us a chance to see them in action – not just in an interview, but also in team interactions and challenges. As the class size is fairly small, it is important that each person will fit into the class, be able to contribute to the learning of their classmates and that we will be able to help them to fulfil their goals.
CA: How does your team approach the essay portion of the application specifically? What are you looking for as you read an essay? Are there common mistakes that applicants should try to avoid? What is one key thing they should keep in mind as they sit down to write?
AF: The key here is to be genuine. We want to admit students who will really benefit from the program, and the best way for us to do this is to hear about who the person really is. Nobody benefits if this is not the right program for them. We are looking for students who already have some work experience and who demonstrate the desire and ability to develop their leadership skills in a reflective and responsible way. We are also looking for diversity – the more diverse we can make each class, the stronger the overall learning experience will be – it is important to be able to work with a wide variety of cultures and backgrounds, not just in the program, but in life as well.
CA: Could you tell us about your interview process? Approximately how many applicants do you interview? Who conducts the interview (students, admissions officers, alumni) and what is the nature of the interview (resume-based, behavioral)?
AF: Our recruitment and admissions team interview the students, and the assessment process comprises a mix of the interview itself, individual exercises, and team exercises so that we can assess what they contribute and how they conduct themselves in different settings. It can be surprising to see someone who aces the interview then struggle in the team exercises, or vice versa.
CA: What is your testing policy?  Do you offer exam waivers?  Why or why not?
AF: All applicants are expected to submit GMAT or GRE scores. These scores are relevant on multiple levels they can offer insights into how well a student will perform in the classroom and how motivated a person really is to do their MBA.
We also require an English test for non-native English speakers, as the entire program is taught in English. It is an intense program that requires a lot of reading, and class participation is also a key element to our teaching style.
CA: Tell us briefly about two popular courses at your institution.
AF: The Business and Society class is always popular, with its focus on the role business plays in society and global roles of stakeholders such as NGOs, international organizations and governments. The course includes even more guest speakers than usual, as well as discussions, debates and role plays.
CA: As we learn to live with COVID-19, campuses have opened up and students are back. What about prospective students? Will they have the opportunity to visit campus? Will admissions interviews be conducted virtually?
AF: Everyone had to rapidly adapt to doing everything online during COVID-19, however we were actually pleasantly surprised that it also opened up new opportunities, while, with some adaptation, still allowing us to really get to know our applicants. We are now in the happy position where we can offer prospective students the choice of a virtual admissions experience or an in-person one, as well as relaunching our in-person campus visits and open days for those who want to visit us.
CA: Is there anything else you'd like to highlight about your MBA program or IMD MBA admissions process?
AF: One of our pillars, both in the MBA program and in our admissions process, is the personal approach. We truly believe that is very important to get to know each one of our applicants and understand what their motivations and aspirations are. I cannot stress enough the importance of reaching out to us with any questions about IMD, we are always happy to help!