In this edition of our ongoing Admissions Director Q&A series, we hear from Dibyendu Bose, the Senior Director of Admissions & Financial Aid and Alumni Engagement at Indian School of Business (ISB), about their Post Graduate Program in Management (PGP). His marketing portfolio includes the flagship MBA and EMBA equivalent programmes (PGP suite) as well as Advanced Management programmes (AMP suite) at ISB. In his role as the head of the Office of Alumni Engagement, he is responsible for integrating the global alumni community through different School initiatives and making them an integral part of the School's onward journey.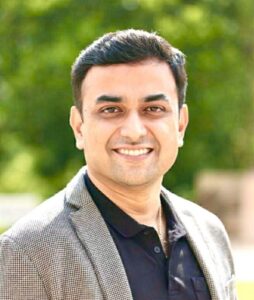 Dibyendu is an MIT Sloan Fellow and ISB alumnus, and joined us to share insights into admissions, diversity and more at ISB.
Clear Admit:   What is the one aspect of your program that you wish applicants knew more about?
Dibyendu Bose: The one-year flagship Post-Graduate Program in Management is our MBA equivalent. With more than 200+ international faculty teaching the programme, 50+ exchange options available to choose from and 2000+ job offers by around 400 companies, this one year is indeed a transformational year for the students at ISB.
CA: Walk us through the life of an application in your office from an operational standpoint. What happens between the time an applicant clicks "submit" and the time the committee offers a final decision?
DB: We follow a well-defined and rigorous process for the evaluation of applications.
Each qualified application is reviewed by a well-trained group based on different evaluation criteria (academic qualifications, GMAT/GRE score, work experience, extra-curriculars, essays, recommendations, diversity, etc.). Post this, a pre-interview rating is generated and the same is considered to invite applicants for an interview.
The interview panel consists of alumni/senior faculty. Post the interview, a rating is generated and now this rating is combined with the pre-interview score to come to a final rating for a candidate.
All admits/rejects/waitlist student recommendations are presented to the Admissions committee (ADCOM). The ADCOM consists of a set number of alumni and faculty members. They have to approve/reject the recommendations made by the admissions team post review.
CA: How does your ISB PGP admissions team approach the essay portion of the application specifically? What are you looking for as you read an essay? Are there common mistakes that applicants should try to avoid? What is one key thing they should keep in mind as they sit down to write?
DB: Essays are an important component of our selection process. While reading the essays, apart from communication and articulation skills, the evaluators look for clarity of thought, evidence of maturity and instances of leadership and interpersonal skills. One of the essays also focuses on the motivations of the candidate for pursuing PGP at ISB and how ISB fits into the overall career aspirations of the candidate. Many candidates tend to use abstruse words or flowery language to show their command over the language; however, the focus should be on keeping your essay simple with good readability and highlight your strengths and work experiences. The candidates should ensure that they keep their essays to the point and convey all relevant information in a succinct manner.
CA: Could you tell us about your interview process? Approximately how many applicants do you interview? Who conducts the interview (students, admissions officers, alumni) and what is the nature of the interview (resume-based, behavioral)?
DB: Interview process is structured to capture the strengths of the candidate and are conducted by the alumni of ISB. Interviews are resume-based, and the interviewers try to understand the aspirations, motivations and candidate fit for a typical ISB cohort. Interviews also serve as an opportunity for candidates to learn more about the ISB community from someone who has been an ISB student. For a cohort of 900 students, we interview approx. 2,500 students. Over 500 alumni are involved in the blind interviews, which are conducted in 6 major cities across India. During pandemic we also provided the candidates with an option of interviewing digitally.
CA: What is your testing policy? Do you offer exam waivers? Why or why not?
DB: We accept both the GMAT and the GRE tests as part of our evaluation process in line with top global b-schools. Candidates can submit scores from either of these tests as part of their application process. ISB follows a holistic evaluation process where we look at various parameters such as work experience, academics, essays, recommendation letters, test scores etc. The Test score is one of the important components of our evaluation process and we do not provide exam waivers.
CA: Tell us briefly about two popular courses at your institution.
DB: ISB students have an option to choose from a wide variety of courses depending upon their interests and their career aspirations. Our courses across all streams are highly popular with our students. To name a couple – Logistics and Supply Chain Management taught by Prof. Milind Sohoni and Designing and Managing Effective Healthcare Delivery Systems by Prof. Sarang Deo.
CA: As we learn to live with COVID-19, campuses have opened up and students are back. What about prospective students? Will they have the opportunity to visit campus? Will ISB PGP admissions interviews be conducted virtually?
DB: At ISB we have been proactive in our response to the Covid-19 situation by putting in place specific protocols for students, faculty and staff. This has ensured maximum on-campus time for our cohorts in the last two years. In line with our current Covid-19 policies, we welcome prospective students and parents on our campus with prior approvals.
CA: Is there anything else you'd like to highlight about the ISB PGP program or admissions process?
DB: ISB is a research-driven management institution. Our distinguished faculty members engage in cutting edge research in collaboration with industry partners, which is incorporated into our curriculum, keeping it contemporary and in line with the latest industry trends. This ensures that our graduates hit the ground running and are much sought after by the industry. This is reflected in the FT Global MBA Rankings 2022 where ISB is ranked #1 globally in terms of outgoing salary growth of the cohort vis a vis incoming salary.
An important aspect at ISB is the diversity of the cohort. The class consists of people from varied industries such as armed forces, fashion, hospitality, sports, arts, entrepreneurship, IT services, consulting etc. For example, ISB students include a former world top 15 ranked badminton player as well as an army professional who has won laurels in UN Peace keeping missions.