For this Admissions Director Q&A, Justin Aier, Assistant Dean of Graduate Recruitment & Enrollment at Boston College's Carroll School of Management, joins us to discuss the dynamic MBA program. He's been a part of the Carroll School Graduate Admissions team for close to five years, has taken on roles from marketing and communications to recruitment and enrollment management. His favorite part of the admissions process is personally working with applicants to determine how the BC MBA can help them achieve their academic and professional goals. Read on for his insights into their admissions process, interview and more.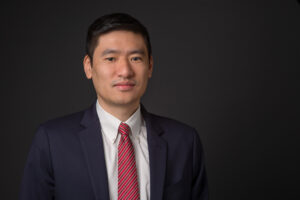 Clear Admit: What is the one aspect of your program that you wish applicants knew more about?
Justin Aier: Our world-renowned faculty! Many of the faculty at the Carroll School of Management come from the business world and bring their experience, perspectives, and networks to the classroom. They're key drivers of the BC MBA's dynamic, market-driven curriculum.
CA: Walk us through the life of an application in your office from an operational standpoint. What happens between the time an applicant clicks "submit" and the time the committee offers a final decision?
JA: An application goes through several review rounds by readers and admissions staff before culminating in a committee review. Applicants can find out when to expect their decisions by looking up decision notification dates on our website.
CA: How does your team approach the essay portion of the application specifically? What are you looking for as you read an essay? Are there common mistakes that applicants should try to avoid? What is one key thing they should keep in mind as they sit down to write?
JA: The essay is an opportunity for the admissions committee to get to know you. As you write the essay, my advice is to answer the essay prompts specifically with Boston College in mind. A common mistake we see is applicants submitting the same essay to multiple schools.
Additionally, we want to hear why a candidate is applying to the Carroll School of Management and how the BC MBA will help them achieve their short-term and long-term career goals. While these questions are straightforward, I always tell applicants to approach the essay as an exercise in reflection. Taking the time to examine and articulate your reasons for wanting to pursue your MBA at Boston College will not only give the admissions committee a sense of your preparedness for the program, but it'll also help you get a head start on mentally preparing for your MBA.
CA: Could you tell us about your interview process? Approximately how many applicants do you interview? Who conducts the interview (students, admissions officers, alumni) and what is the nature of the interview (resume-based, behavioral)?
JA: A select number of applicants are invited to interview with the admissions committee. Interviewers on the admissions committee include second-year MBA students hired and trained to be part of the admissions team, as well as admissions directors. Interviews will include both resume-based and behavioral questions. Essentially, we're looking to determine fit in the program with these interviews—that is, we ask whether or not we can picture you at BC.
CA: What is your testing policy?  Do you offer exam waivers?  Why or why not?
JA: MBA applicants applying for Fall 2022 can request consideration for a GMAT/GRE waiver. We are currently working on our policy for the new admissions cycle (i.e., for Fall 2023 applicants).
This year, even though we offered test waivers, the admissions committee continued to view the GMAT/GRE as an additional metric that could help add value to candidates' backgrounds and experiences, as well as indicate their readiness for the MBA program.
CA: Tell us briefly about two popular courses at your institution.
JA: Data Visualization is a popular MBA elective that teaches students how to effectively analyze data and present insights in a way that engagingly incorporates analytics and storytelling.
Another popular course is the Professor Pilar Opazo's core MBA class, Managing People and Organizations. The course introduces concepts about complex individual, group, and system-wide behavior in organizations, and teaches students to apply this knowledge in the real world.
CA: As we learn to live with COVID-19, campuses have opened up and students are back. What about prospective students? Will they have the opportunity to visit campus? Will admissions interviews be conducted virtually?
JA: In addition to continuing with virtual admissions events, we plan to host a few information sessions in person and on campus this fall. We've also been offering campus tours of Fulton Hall (the home of the Carroll School) and plan to continue our popular off-campus coffee chat sessions, where we meet with candidates in the Boston area. All these events are listed on our website's events page. As far as interviews go, we will continue to conduct them virtually, though candidates wishing to meet in person will certainly have the option to do so.
CA: Is there anything else you'd like to highlight about your MBA program or admissions process?
JA: At BC, we value our collaborative community and industry-focused curriculum. By design, our class sizes are small in order to allow our students to foster relationships and connections, which eventually translate into a close-knit and accessible alumni network. The MBA core curriculum includes a series of courses on data analytics to prepare students for careers across all industries and job functions. Overall, across all stages of the application process, we're people-centered and genuinely want our applicants and students to succeed.