For this installment of our Admissions Director Q&A series, it's time to learn all about the MBA program at the University of Maryland's Robert H. Smith School of Business. Maria Pineda has been with UMD Smith for over 15 years. As the Senior Director of Admissions, Maria manages the recruiting efforts for Full Time MBA and Specialty Master's Programs. She joins us again to discuss admissions, essays, interviews and more.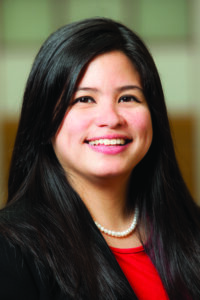 Clear Admit: What is the one aspect of your program that you wish applicants knew more about?
Maria Pineda: We are a not-so-hidden gem! We are located between Baltimore, Maryland, and Washington, D.C. Our campus is picturesque — what one would expect from a 1,250-acre suburban campus — lush green lawns, traditional campus buildings, sports arenas, centers, dining halls…the works! All this and we are so close to Washington, D.C. There's a College Park Station connected to the D.C. metro system. At Maryland Smith, students can enjoy the traditional campus setting while still having access to major metropolitan areas.
CA: Walk us through the life of a Maryland Smith MBA application in your office from an operational standpoint. What happens between the time an applicant clicks "submit" and the time the committee offers a final decision?
MP: Once an application is received and deemed complete, it is independently reviewed by two admissions officers. Every aspect of the application is considered at this stage — pre-MBA career, aspirational goals, potential academic success, etc. If we have further questions, we will invite the applicant to an interview.
Since the academic assessment happens during the first two reads, the interviewer will only review the candidate's resume and essay(s). During the interview, we want to get to know you, learn about your goals and career plans. We also want to learn about your potential contribution to the community as well as how Maryland Smith can help you succeed both in the short and long term.
After the interview, the admissions committee takes a holistic review of all applications and confers all final decisions. The committee is composed of leadership from several departments. We want to ensure all future Maryland Smith MBA students will meet the academic rigor of the program, contribute to the community, and secure a post-MBA position that aligns with his/her goals.
CA: How does your team approach the essay portion of the application specifically? What are you looking for as you read an essay? Are there common mistakes that applicants should try to avoid? What is one key thing they should keep in mind as they sit down to write?
MP: At least three admissions committee members will read your essay, so make sure it conveys your truths. Help us understand your thought process, your future plans and your expectations. Communicate your understanding of how Maryland Smith can help you grow as a strong individual. Hearing your perspective helps us learn more about you.
Great essays are authentic. We want to know who you are and where you want to go. If we know these facts, we can determine if Maryland Smith can bridge the gap between where you are now, and your post MBA goals. We want your essay to be concise; however, we want you to ensure you include relevant details not found anywhere else in your application.
When you sit down to write your essay, remember that this is the only forward-thinking aspect of your application. All other components that you will submit are historical information. Use this real estate to shed light on who you are and where you want to be.
CA: Could you tell us about your interview process? Approximately how many applicants do you interview? Who conducts the interview (students, admissions officers, alumni) and what is the nature of the interview (resume-based, behavioral)?
MP: Interviews are hosted by faculty and admissions staff members. Some faculty members hold dual positions, so you may interview with a faculty member who is also the academic director for the program. You might not know who will conduct your interview ahead of time, but that's ok. We do not need you to prepare on who you will be speaking with; we want you to prepare for the program. Since we interview about half of the applicants, if you are invited to interview, get excited!
Think of the admissions interview as a job interview. You approach the conversation ready to discuss how you can meet the academic rigor and grow professionally, regardless of who the interviewer may be. During the interview, make sure you highlight your profile beyond submitted application materials. You may be asked about information on your application, resume, goals, as well as some behavioral questions. Be confident in what you have to offer and humble enough to know you do not know everything, just yet!
Interviewers will have access to your resume and essays. Thus, during the interview, we will have a baseline understanding of your profile. You then get to articulate your goals for what you want to do during and after the MBA.
CA: What is your testing policy? Do you offer exam waivers? Why or why not?
MP: Maryland Smith's Full-Time MBA program does not require a standardized test. If you want to submit a standardized test score, you may submit a GMAT and/or GRE test score. Maryland Smith wants to give you the flexibility to make the choice that is best for you. However, international students who did not complete their bachelor's degree in a country where English is the primary language are still required to submit English proficiency test results. We accept the TOEFL, IELTS, and PTE tests.
CA: Tell us briefly about two popular courses at your institution.
MP: Students enjoy experiential learning opportunities where they can connect concepts learned in the classroom with real world business implications. Our Technology Entrepreneurship course gives students the opportunity to work with organizations and companies, typically smaller start-ups, to solve real-life business challenges and make strategic recommendations to develop, implement, and scale practices over time. This course requires students to think about decisions that may significantly impact a start-up. In our Innovation & Product Development course, students put marketing concepts into practice and develop their own product or service. With a customer-centric approach, they focus on how to develop and bring to market elegant and efficient solutions to customer needs.
CA: As we learn to live with COVID-19, campuses have opened up and students are back. What about prospective students? Will they have the opportunity to visit campus? Will admissions interviews be conducted virtually?
MP: Throughout the entire admissions process, we want prospective students to visit our campus. Whether you are in the inquiry stage or already committed to Maryland, we would love to host you on campus to experience our community. We simply ask that you schedule a visit ahead of time to ensure a seamless experience. We will also continue to host virtual events for prospective students who cannot attend in-person.
COVID-19 has taught us many things. One of them is that virtual interviews give everyone equal opportunities to connect with Maryland Smith regardless of the candidate's location. Thus, virtual interviews will remain in place. However, if you want to visit campus, we would love to host you for a class visit or lunch or even coffee!
CA: Is there anything else you'd like to highlight about the Maryland Smith MBA program or admissions process?
MP: We want to get to know you. Connect with us. Admissions officers can be your first point of contact and would love to share more about Maryland Smith. Current students can tell you about their experience. We want you to know about the great offerings we have at Smith and how it can help you transform your professional and personal life!