We welcome Morgan Janela, a Director of Admissions at Columbia Business School, for our latest Admissions Director Q&A to discuss all things CBS MBA admissions. Morgan oversees the operations and evaluations team, and serves as a member of the Admissions Committee for the MBA and Executive MBA programs, reading, evaluating, and interviewing candidates. Before leading the operations team, she worked on the full-time recruiting team, who helped oversee on-campus recruiting events. Prior to joining CBS in September 2013, Morgan was an Assistant Director of Admission at Teachers College, Columbia University, and a Program Assistant in the College of William & Mary's Washington, D.C. office.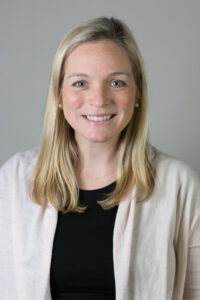 Read on for Morgan's advice on the admissions essays, what to expect in the interview and more.
Clear Admit: What is the one aspect of your program that you wish applicants knew more about?
Morgan Janela: I wish every applicant knew about CBS' commitment to stay at the forefront of business education by regularly introducing new programs and courses that elevate five pillars of focus identified by Dean Costis Maglaras. We are Driving the Digital Transformation of Business by examining how nearly every industry is being upended in the digital era and offering courses in big data, analytics, digital marketing, web programming, AI, and machine learning. We are Leading Entrepreneurship and Innovation through our Eugene M. Lang Entrepreneurship Center, which drives startup business, venture capital, and innovation on campus and has helped launch more than 400 ventures. We are Elevating the Role of Business in Society by focusing on socially responsible leadership across our 28 centers and programs and working hard to embed Columbia Business School into the fabric of our New York City home. We are Inventing the Future of Finance by blazing new trails in financial education and research, capitalizing on the newest financial technology and its applications and evolving Value Investing theory for the next generation of financial services professionals. Finally, we are Powering Climate, Sustainability, and Energy Transformation through our new Climate Change and Business Program, which includes courses on portfolio management, finance, and energy markets, and our annual Climate Science & Investment Conference, which connects climate scientists and business leaders to discover how new advances in research and practice can inform investments.
CA: Walk us through the life of an application in your office from an operational standpoint. What happens between the time an applicant clicks "submit" and the time the committee offers a final decision?
MJ: I think it is always important to remind applicants that Columbia Business School utilizes rolling admissions, which is different from most of our peer schools. With rolling admissions, we are reviewing applications and rendering decisions continuously throughout the application cycle. Before submitting your application, do keep in mind our "deadlines" to be considered for January-entry, August-entry Early Decision, and/or the August-entry Regular Decision Priority Merit Fellowship consideration deadline.
Once an application is submitted, and it is complete, meaning the recommendation letter has been received, the file will be assigned to an Admissions Officer for review. After the initial review another Admissions Officer will review the file and the applicant will either be invited to interview or will not be offered admission. We aim to provide this update within six weeks of the application's complete date. In practice, we are frequently much faster – one of the benefits of rolling admissions! If invited to interview, the applicant will typically meet with one of our alumni ideally within two weeks of the interview invitation. Then, once the interview report is received, ideally within two days of the interview, the Admissions Committee will assess the entire application package again, and aim to render a final decision within two weeks. A final decision could include an admissions offer, a deny decision, or a waitlist decision.
Please note, this timeline currently applies to January-entry and August-entry Early Decision applications. We typically start reviewing August-entry Regular Decision applications in late- November.
CA: How does your team approach the essay portion of the application specifically? What are you looking for as you read an essay? Are there common mistakes that applicants should try to avoid? What is one key thing they should keep in mind as they sit down to write?
MJ: We love reading the essays! I've been on the CBS admissions team for nine years and the essays are an amazing opportunity to hear directly from our applicants. The essays are the major opportunity to share your individual voice in your written application materials. Here at CBS we continue to have three essays (albeit much shorter than 10 years ago) because we think it is important to give the applicant the opportunity to share various parts of their life. You'll notice that our essays tend to give you the opportunity to discuss your professional goals, as well as what matters to you personally, and importantly why Columbia Business School is the right fit for you.
Simply put, we are looking for applicants to be honest and authentic, directly answering our questions – we are not trying to be tricky! We know applicants apply to many schools, but we certainly encourage you to take the time to carefully tailor your essays to our specific questions. While I know the essays can appear a bit daunting at first, I encourage applicants to approach them from a positive angle and know they are an important personal assessment of why you are interested in CBS MBA. We truly want to get you know better so investing time in your written statements can assist with that.
CA: Could you tell us about your interview process? Approximately how many applicants do you interview? Who conducts the interview (students, admissions officers, alumni) and what is the nature of the interview?
MJ: Our interviews are by invitation only and typically conducted by alumni. As noted above, applicants should expect to hear if they are invited to interview within six weeks of the application being submitted and complete. Applicants will be assigned an alumni in their local area and instructed to contact them directly to schedule, ideally within two weeks. For this 2023 cycle, applicants and alumni may choose to interview in person or virtually, whichever they prefer.
Generally speaking, the interview is meant to be a conversation about the applicant's career goals and interest in a CBS MBA, and applicants should share their resume with the alumni interviewer. We hope applicants also enjoy the opportunity to learn more about the experiences our alumni had as students!
CA: What is your testing policy? Do you offer exam waivers? Why or why not?
MJ: We are happy to provide three options for our applicants regarding standardized testing. For both our full-time MBA and executive MBA, applicants are welcome to submit the GMAT, GRE, or EA. We hope this optionality helps "de-stress" the process a bit. We also do not require an English language proficiency exam as our interviews are conducted in English.
CA: Tell us briefly about two popular courses at your institution.
MJ: Python for MBAs, co-taught by Daniel Guetta, associate professor of professional practice and director of the Business Analytics Institute, and Mattan Griffel, adjunct assistant professor of business, is one of our most popular electives. The course helps business students better understand a common tool that informs the business decisions they will need to make or contribute to as part of a team.
Bruce Usher, co-director of the Tamer Center for Social Enterprise, Elizabeth B. Strickler '86 and Mark T. Gallogly '86 Faculty Director, and Professor of Professional Practice, teaches Climate Finance. This extremely popular elective at CBS addresses how a rapid transformation of the global economy, to rely on the latest technologies and business strategies, creates new risks and opportunities for investors to finance the transition.
CA: As we learn to live with COVID-19, campuses have opened up and students are back. What about prospective students? Will they have the opportunity to visit campus? Will admissions interviews be conducted virtually?
MJ: We are thrilled to welcome prospective students to our new Manhattanville campus! We recently launched the MBA Campus Visit program which offers the opportunity to meet current students, have your questions answered by Admissions, and explore our new buildings. In addition, we re-introduced the Class Visit program this summer which gives prospective students a chance to experience the CBS classroom. Applicants and alumni will have the choice to conduct interviews in person or virtually this year.
CA: Is there anything else you'd like to highlight about your MBA program or CBS admissions process?
MJ: In July, we launched a new two-year Dual MBA/Executive MS: Engineering and Applied Science Program. It will prepare leaders with ways to meet evolving challenges in fields that require both technological and management expertise. Starting in fall 2023, students in the program will have a unique opportunity to benefit from the knowledge, expertise, and access to opportunities from both Columbia Business School and Columbia Engineering. Learn more about the program curriculum intended to help leaders in technology, product managers, and entrepreneurs move their organizations forward by leveraging new technologies and designing and implementing innovative products and solutions.