W. R. Alex Berry, Berkeley Haas MBA Class of 2024
Age: 28
Hometown: Albany, GA
Undergraduate Institution and Major: Georgia Institute of Technology (Georgia Tech) | Industrial & Systems Engineering, Business & Mandarin Double Minor
Pre-MBA Work Experience (years, industry): (5 Years, Technology / Manufacturing, Social Entrepreneurship)
Why did you make the decision to attend business school? Why now?
Truly Million Dollar Question! For me, there were three core problems that my Pre-MBA experience and perspective could not solve.
1. In my corporate work I learned a lot about the HOW of technology (particularly from working in process improvement and program management roles). However, the understanding around WHAT we were building, WHY we were building it, and WHO we were building it for was sorely lacking. I hope to spend my MBA exploring the full technology pipeline – from venture capital-led technology incubation to product management to product strategy.
2. Both my Intel experience and social entrepreneurial ventures exposed gaps in my team leadership abilities. Supporting small, agile teams to do nimble short-term projects was in my zone of strength. But what about the skill, confidence, and emotional intelligence to orchestrate an entire department or an entire division on long-term, transformational change. Most of my non-academic focus and experimentation time will be spent building the decision-making and EQ skills needed to lead large organizations.
3. Finally, the COVID-19 Pandemic forced a paradigm shift in how I wanted to engage in the community. Before, I was happy to be a "Technologist by day and Social Entrepreneur at night". Post-MBA, I am striving to build a career where I can merge my technology background, leadership skills, and social sector focus into ONE career. Effort does not equal impact and success does not equal significance. Post-MBA, I hope to be on a life trajectory where my professional and personal life
Why did you choose Berkeley Haas? What factors figured most prominently into your decision of where to attend?
My criteria for choosing Berkeley Haas evolved throughout my application process. Initially, when selecting B-Schools, I only selected institutions with corresponding top-notch graduate engineering programs. Coming from an engineering background, I was wary about the culture of the MBA, and I assumed the nerdy, hands-on engineering culture would have some magical influence. During the interview phase, I really started to focus on Berkeley Haas's career and academic opportunities. I came from Big Tech and wanted to come back to Big Tech. Haas had the right types of classes, alumni, professors, and real-world consulting projects to allow me to grow into the technology leader I had always dreamed of being. And then, I was admitted with a full-tuition Consortium Fellowship. My decision criteria evolved again and focused solely on the people in my class. I talked to alumni, other prospective MBA students, Haas staff, Haas student ambassadors – EVERYONE! And time after time, question after question, the Haas community gave me their time, energy, and perspective. 
What do you think is your most valuable or differentiating contribution to the Class of 2024?
That's a tough one. My Class of 2024 really spreads the gamut in terms of skills, experiences, and diverse backgrounds. So far, I think my valuable contributions to my class come from my career coaching background (side note: while working at Intel, I moonlighted in nonprofit management and career coaching). We all have different career goals, with some pivots being much more difficult than others. As a career coach and one of my class's four elected career representatives, I support programming that helps my peers reframe their career journeys via community-oriented workshops. Because my pre-Haas career spanned multiple domains, I am able to translate more effectively across my classmates with more traditional backgrounds (e.g. Finance, Tech, Consulting) and those from nontraditional backgrounds.
Tell us a fun fact about yourself that didn't get included on your application:
I LOVE Chocolate milk, so much so that you'll often see me drinking it in class, at parties, or at fancy events! BYOB (Bring Your Own Beer) translates for me as Bring Your Own Chocolate Milk. I think this fun fact is important because B-School is known for being a purely social (and alcohol-prone) environment. As someone who doesn't drink alcohol – at all – I want prospective students to know you don't have to change everything about yourself just to fit into the MBA lifestyle.
Post-MBA career interests:
My career hypotheses are three-fold:
Big Tech: Technical Product Manager

Big Tech: Biz Ops / Chief of Staff Role

Big Tech: Corporate Venture Capital
I'm still figuring out how to test out all of these hypotheses with clubs, classes, internships, and networking! 
Advice for Current Prospective Applicants:
What is one thing you would absolutely do again as part of your application process?
The difference between me being in B-School vs. not finishing my application was having peers who were going through a similar journey. At Intel, there were two amazing women (shout out to Natalie and Alyssa) who were also working on graduate school applications. We blocked off weekends, evenings, and lunch times to support each other on essay drafting and resume reviews. They kept me motivated and kept my north star present in my mind. After some grueling months of late nights and stress, WE ALL were admitted to different graduate programs and even celebrated by co-locating to watch "Hamilton The Musical" live! And those were just two folks of the team of 40 who helped with interview prep, essay reviewing, recommendation letter strategy, etc. Moral of the story – Ask For Help! 
What is one thing you would change or do differently?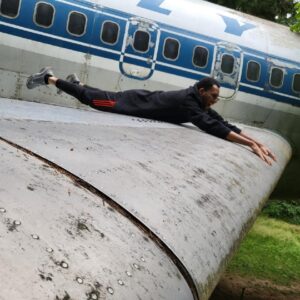 I wish I had spent more time understanding my North Star. To clarify, your "North Star" is a term often used in the graduate school application to refer to an applicant's "WHY?". After weeks to months of introspection, your North Star SHOULD answer the following questions succinctly and powerfully.
Why B-School (vs other graduate programs or certificates)?

Why do you want to get an MBA NOW (what industry or personal moment are you meeting?

Why THIS particular B-School (vs. other programs)?

What life/career/societal problem have you encountered that drives you back to school?
I could not answer those questions until right before the application deadlines. As a result, I ended up rewriting essays and hitting "submit" with just a few minutes left.
What is one part you would have skipped if you could—and what helped you get through it?
I don't think I would entirely skip the "school research" phase, but I would suggest a better approach to it. For example, when trying to understand Berkeley Haas's academic options, I spent hours searching the website, downloading class catalogs, and other methods. Eventually, I realized the most efficient way, and effective way, was to just talk to current and recent students. Those conversations drastically accelerated my school research phase.
What is your initial impression of the Haas students/culture/community?
Haas is NOT a hodgepodge of "Tech and Finance Bros" who like to study. My first impression is that this space colocates compassionate, accomplished, and humble humans. The humans here believe in action and are always willing to share resources, knowledge, and even a hug. Folks will take time off of their startups to help you make it through the rigorous academic core classes. People will gain an amazing industry connection or mentor – and then create group mentoring programs so others can benefit. In the MBA, the most precious thing is time, and Haas humans are always willing to offer that.
What is one thing you have learned about Haas that has surprised you?
Partially because of the technology adoption during the COVID-19 pandemic, everything at Berkeley Haas has some digital counterpart in Slack. Many of our professors and staff use Slack, and it makes them extremely accessible. 
What is one thing you are most anxious about in your first year?
If you had asked me in my first week of school, I would have said "making friends". Now, after a month or two, I'm much more anxious that I might not get to meet all the amazing humans in our program. Even with a small program like Berkeley Haas, you really have to be intentional with your time. For me, this looks like reaching out to a few of my classmates (especially ones I don't know yet) and saying, "Hey, I know we haven't really gotten to connect yet. Let's go on a fun adventure and make that happen".
What is one thing you are most excited about in your first year?
I am excited and honored to be elected Berkeley Haas's incoming MBA student body president. Personally, it represents an opportunity to grow into an inclusive, intentional leader while making deep relationships that will last a lifetime. I came to Berkeley Haas to take some emotional, professional, and interpersonal risks, and I think this role – and the connection it gives me to my classmates – is a big 1st step in that journey.