Jahnavi Uday Shah, Berkeley Haas MBA Class of 2024
Age: 25
Hometown: Ahmedabad, India
Undergraduate Institution and Major: Computer Science
Pre-MBA Work Experience (years, industry): 3, Analytics
Why did you make the decision to attend business school? Why now?
At ZS Associates, I understood how data-driven analysis drives marketing-and-sales decisions in US healthcare to mitigate declining market share due to Loss-of-Exclusivity of my client's blockbuster drug.  At Amazon, I am witnessing how data is leveraged to transform retail supply chain management.
I aspire to revolutionize the Indian Healthcare SCM. To aid this, I wish to leverage technology and build products by using Big Data analytics for decision-making and Machine Learning for predictive algorithms to drive optimization. Currently, USA is leading this space with Amazon launching Amazon Pharmacy and Walmart dipping rapidly  expanding "Walmart Health". Hence, the logical next step for me is to participate in the budding health tech ecosystem in the USA as a Product Manager. An MBA will help me make this pivot. Along the way, I will gain skills like negotiation, stakeholder management, and product strategy that I need to succeed as a PM, where work must be accomplished through influence.  
Why did you choose Berkeley Haas? What factors figured most prominently into your decision of where to attend?
My reasons for attending Haas:
Class Size: a smaller class size has given me the opportunity to get to know each of my classmates

Location and Weather: Being close to Silicon Valley, there was a lot of scope of tech here (which is where my interests lie). The beautiful weather allows me to bike to school every day. A lot of hiking and bike trails are within reach. Lake Tahoe and Yosemite are just a couple of hours away. And once I graduate, most of the folks in my class will still be on the west coast, so I won't have to rebuild my community from scratch.

The people: Every person here is looking to do good. Period.

The culture: It is very laid back. You do you and build your own identity.

Academics: the Grade Non-Disclosure policy at Haas really enables you to pursue your passion.
What do you think is your most valuable or differentiating contribution to the Class of 2024?
I am on the younger side of the class. That means that I am probably more energetic. Because of my background, I am also good with quant-heavy/ analytical topics. I cook, and so I bring a lot of vegan food to school and other people's homes 🙂
Tell us a fun fact about yourself that didn't get included on your application:
I misplace things very easily. Because of that, moving to Berkeley has been a fun experience because I always get my stuff back!
Post-MBA career interests:
I am looking to pivot into Product Management in a Big Tech firm and slowly make my way to the Healthcare divisions within.
Advice for Current Prospective Applicants:
What is one thing you would absolutely do again as part of your application process?
Talk to a lot of people at your target schools. and GMAT, of course. I would recommend getting as high a score as possible. What they don't tell you is that you can keep trying to improve your score till March of the admission season. Don't give up!
Don't forget that the Internet is your best friend. There is just so much information on there that you can use for your essays and interviews.
What is one thing you would change or do differently?
Being in India, I was unable to visit the schools. But, if you do have an opportunity, you should absolutely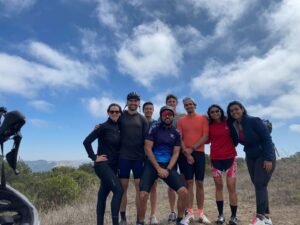 do that!
What is one part you would have skipped if you could—and what helped you get through it?
The days leading up to the decisions were very hard for me. I am a very anxious person, and not knowing stresses me out. I would definitely skip them. I was working at Amazon at that time. So what helped me get through was to bury myself in a pile of work and then do workouts after thereby exhausting myself physically and mentally :p
What is your initial impression of the Berkeley Haas students/culture/community?
Berkeley is a very different school. People here care and stand for the things they believe in. You can see people stepping up and stepping back – not just in class but also in the social setting. There is something for everyone. The 2nd years are eagerly awaiting to help us out. The professors are pure genius. They are extremely prepared and make each and every class fun
What is one thing you have learned about Berkeley Haas that has surprised you?
I was surprised by the number of Nobel Laureates that Haas has produced! It speaks about the quality of education that the school provides. I was also impressed by the beauty of Haas and Berkeley. The pictures definitely don't do justice. The diversity in the classroom and also the streets of Berkeley was something I did not expect.
What is one thing you are most anxious about in your first year?
This is my first time studying in the United States. I am not used to the ways of teaching, examining, and grading. So, I am anxious about giving my best in Academics and catching up.
What is one thing you are most excited about in your first year?
MBAs go on a lot of weekend getaways and trips. Berkeley is positioned well to make even international locations (Latin America) accessible! These trips with my peers have me excited.