Brian Hum, Berkeley Haas MBA Class of 2024
Age: 28
Hometown: Flushing, NY
Undergraduate Institution and Major: SUNY Binghamton, Accounting and Information Systems
Pre-MBA Work Experience (years, industry): 6 years in Consulting between Crisis Management and Human Capital
Why did you make the decision to attend business school? Why now?
Like many individuals during the pandemic, I took some time to reflect on my career to date and where I wanted to see myself grow. As a Consultant, I have been able to work across different industries and offerings but wanted to sharpen my focus on specific industries and functions. I saw business school as an opportunity to further my leadership capabilities, sharpen my business acumen and have the opportunity to participate in in-semester internships and projects to test my career hypotheses in a low-stakes environment.
Why did you choose Berkeley Haas? What factors figured most prominently into your decision of where to attend?
The combination of the students I had a chance to interact with and the location of California made it an easy sell. I had genuine, deep conversations with many first and second-year students as I was going through the application process compared to other schools, which made the connection to Haas more personable. Being in California also afforded me the opportunity to experience temperate, warm weather year-round!
What do you think is your most valuable or differentiating contribution to the Class of 2024?
My consulting experience across crisis management and human capital, with a year spent doing corporate social responsibility programming, has enabled me to work at the intersection of technology, people, and social impact and see the interplay between these sectors.
Tell us a fun fact about yourself that didn't get included on your application:
I spent a month in Nepal helping to teach English to secondary school children and at a women's center. Getting to live like a local in Nepal for a month was an eye-opening experience and gave me a deeper appreciation for the different communities within our world.
Post-MBA career interests:
I am looking to explore strategy and product management and marketing in Big Tech. My North Star is to pivot into the Health and Wellness industry.
Advice for Current Prospective Applicants:
What is one thing you would absolutely do again as part of your application process?
Use the MBA application journey as an opportunity to do a deep introspection on where you came from, where you are now and where you hope to be with the help of an MBA. I found that very helpful in defining what I hope to gain from business school and where I hope to end up. The exercise is also a great opportunity to think even beyond school and reflect on your personal life!
What is one thing you would change or do differently?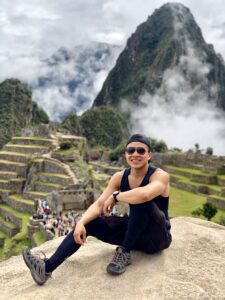 I would've been more intentional about the schools that I applied to. I applied to 10 schools and started realizing that some schools weren't as good a fit (whether it was a career, culture, or location-related reason).
What is one part you would have skipped if you could—and what helped you get through it?
I would've skipped the waiting period between my school interviews and the week when decisions were announced. The waiting period was when I had all the "what if" thoughts come into my head that I couldn't do anything about. Preoccupying my time with a lot of tv watching, safe socializing, and traveling did help get me through that.
What is your initial impression of the Berkeley Haas students/culture/community?
Haas students are very intelligent but down-to-earth individuals who create a space to make everyone feel included. I'm fortunate to get to learn something new every day with each interaction I have with a Haasie. Haasies are also willing to carve time out of their schedules to help you. In preparing for an interview I had, I received numerous help from students, which eased my anxiety going into the interview.
What is one thing you have learned about Berkeley Haas that has surprised you?
I have been surprised at how much the Haas Defining Leadership Principles are embodied between the students, faculty, and administration team. I'm constantly seeing the Haas community live by these principles day in and day out. I would highly encourage any prospective student thinking about applying to Haas to learn what the principles are and how you are able to articulate what they mean to you.
What is one thing you are most anxious about in your first year?
Getting back into the academic mindset. It has been about six years since I stepped foot in a lecture hall and so learning to be a student again while trying to build relationships and explore career opportunities will be an ongoing challenge.
What is one thing you are most excited about in your first year?
Getting to explore the Bay Area! As someone who has never left New York, coming to the Bay Area has been a huge adjustment. The opportunities (whether it's hiking, exploring Napa/Sonoma, or traveling within California) are endless here, and I'm excited to seize them all.
Has the COVID-19 pandemic affected your personal application or admissions process in any way? If so, how?
COVID-19 didn't personally affect my application or admissions process, but it continues to remain present as we shift into having an in-person MBA experience.