Scientists and business professionals practically speak a different language. For Ryan Flamerich, pursuing his MBA at Harvard Business School enabled him to combine the science he knew with the business skills he needed to help organizations decarbonize. In this edition of Real Humans: Alumni, Flamerich tells us how HBS prepared him for a career in consulting for the future.
Ryan Flamerich, HBS MBA '21, Senior Consultant at Deloitte

Age: 31
Hometown: Birmingham, AL 
Undergraduate Institution and Major: University of Alabama, Chemical & Biological Engineering
Graduate Business School, Graduation Year and Concentration (if applicable): Harvard Business School, 2021, General Management
Pre-MBA Work Experience (years, industry): 5 years consulting
Post-MBA Work Experience (years, industry): 2 years consulting
Why did you choose to attend business school?
My undergraduate education focused on the hard sciences; I took many courses on Organic Chemistry, Fluid Flow Dynamics, and Thermodynamics. When I decided to apply my analytical mind to the business challenges facing companies, I often found my peers and clients speaking a different language. It did not take me long to understand that to reach my career goals, I needed to return to gain an academic understanding of management principles.
Why HBS? What factors figured most prominently into your decision of where to attend?
When considering business schools, I considered geography, alumni community, and culture. 
My partner (now fiancé) was not going to be able to relocate from New York due to work. When not in the classroom, business school can involve a lot of trips to prospective employers, conferences, and community events. I focused on programs in the Northeast that had easy access to a major airport.
As someone who did not have an undergraduate business background, I wanted to spend my time in business school, understanding the scope of opportunities available to me. Discussions with alums of different programs illustrated the differences in career outcomes by school. Some schools had alums heavily weighted in specific industries (e.g., investment banking, private equity, technology)—alums open doors for students from their respective programs. Having strong alumni representation in the industries you are passionate about can make all the difference in obtaining the post-graduate opportunities one is striving for. I researched LinkedIn to see where recent graduates of my target programs worked and asked if I could see myself in those organizations. 
Culture is the #1 reason to choose or not choose an MBA program. Your classmates will ultimately define your experience. You will learn more from your peers than from any professor. The people you go to school with will become your business partners, coworkers, and best friends. One way to measure the culture of a program is to sit in on a class. I learned more about a school through how students interacted in a classroom than through any published material. 
HBS scored the highest in all of my considerations. The school's location in Boston is minutes away from one of the largest venture capital ecosystems in the world, a world-class airport, and amenities you can only find in a large city. HBS's alums are well-represented in nearly every industry. The school's focus on the case method forces students to work together in class to evaluate problems. When I filtered through my acceptance letters, I realized all the reasons I wanted to attend an MBA program were all reasons why I wanted to attend HBS. 
What about your MBA experience prepared you for your current career?
My role in consulting shifted dramatically after business school. I return to Deloitte to work in its ESG consulting practice, helping organizations develop and implement their decarbonization strategies. Setting emissions reduction targets and implementing corresponding road maps requires broad organizational alignment. HBS provided me a general management education, meaning I took courses that covered every business function. It has allowed me to understand how decarbonization affects organizations at large. It enables me to understand the problems my clients face today and will face tomorrow when advancing toward a more sustainable future, whether they sit in Marketing, Finance, Operations, or Human Resources.  
What was your internship during business school? How did that inform your post-MBA career choice?
I supported the Chief Operating Officer at Polar Air Cargo in a strategy capacity. Aviation is one of the most difficult sectors to decarbonize. I wanted to spend my summer working to understand its business challenges, operating environment, and support the COVID relief effort. Polar provided me with the opportunity to do all three. The company is one of the largest air freight companies between North America and Asia. When passenger airlines closed routes during the COVID-19 pandemic, companies like Polar transported personal protective equipment to the U.S. from factories in Asia. I carried what I learned in commercial aviation to help structure Deloitte's strategy to decarbonize business travel and, more broadly, commercial aviation.  
Why did you choose your current company? What factors figured most prominently into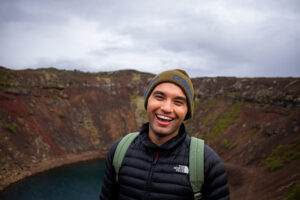 your decision of where to work?
Spring 2021 was ripe with uncertainty. The FDA had recently granted COVID-19 vaccines emergency use authorization. Company offices in most major metropolitan areas were still shuttered. My partner had started law school at Yale in New Haven. 
Deloitte promised me flexibility to live where I wanted now and in the future, allowing me to move to New Haven. Due to its consulting model, it would also be able to support business travel to clients globally when we returned to some degree of normalcy. The stability to end a long-distance relationship without impacting my career during an unprecedented time was more than enough to choose to return to consulting. 
How has COVID impacted your industry/career plans?
This is a difficult question to answer. My original internship offers were withdrawn when social distancing became a household term. It is hard to predict how my career choices would have been different. 
Advice to current MBA students:
–One thing you would absolutely do again as part of the job search?
Research internship opportunities before matriculating. Most career support offices at major MBA programs work over the summer. It is a great time to network with alumni, identify internship programs, and research careers. Once fall classes begin, it can be difficult to navigate academic, social, and professional commitments. 
–One thing you would change or do differently?
I would have scheduled less time for things and freed up my schedule for impromptu experiences. The weekend socials, dining hall meetups, and random coffee chats were the things I missed most when the onset of the COVID-19 pandemic pushed activities online. 
–Were there any surprises regarding your current employer's recruiting process?
Offers for consulting are shared before students return for the second year. The job search process for many industries, especially banking, consulting, and private equity, is time intensive and heavily focused on your first year. I think putting a lot of thought into how you will approach recruiting before you ever step on campus can go a long way. 
–What piece of advice do you wish you had been given during your MBA?
Take in every moment. Give yourself time to really remember your experience. Graduate school goes by in a flash. It goes by even faster during a pandemic.