We have a special edition of MBA Wire Taps today as we welcome William Keller, a marine who will start an EMBA program this fall at either the Wharton School or UVA Darden. Keller served eight years in the Marine Corps and is now transitioning to civilian life to pursue a career in consulting. He's also a longtime listener of the Clear Admit MBA Podcast and we are excited to have him share his experience with the admissions process!
In this episode, Keller talks about:
Why someone in the military should consider an MBA
How a military candidate can connect with business schools
How to overcome stereotypes in the admissions process
Why he chose an EMBA over an MBA
…and much more!
Tune in here or your favorite podcast platform: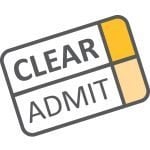 If You Like What You've Been Hearing, Please Subscribe and Rate Us on Apple Podcasts!
It's been wonderful seeing the audience for our podcast series continue to grow! Please, if you have enjoyed what you've heard, could you rate and review the Clear Admit MBA Admissions Podcast in Apple Podcasts? This is the best way to help more listeners find us. Also, to ensure that you never miss an episode, please subscribe to the podcast on whatever platform you use.
This episode was hosted by Graham Richmond and produced by Dennis Crowley. Thanks to all of you who've been joining us!