One of the key components of a top-tier MBA program is the input you receive from peers, staff, and alumni to focus your professional desires. At Dartmouth Tuck, students and career services gave Cynthia Madu invaluable guidance in steering her to the right career. In this edition of Real Humans: Alumni, Madu tells us how important it is to make career choices based on what excites you and not on fear of missed opportunities.
Cynthia Madu, Dartmouth Tuck MBA '22, Consultant at McKinsey & Company
Age: 30
Hometown: Born in Nigeria, grew up in Detroit, MI
Undergraduate Institution and Major: Dartmouth College, Neuroscience
Graduate Business School, Graduation Year and Concentration (if applicable): Tuck School of Business, 2022 with MSQM certification
Pre-MBA Work Experience (years, industry): Outpatient surgery center for two years, investment management for two years, and then startup for three years
Post-MBA Work Experience (years, industry): Consulting for nine months now
Why did you choose to attend business school?
My former bosses at the startup (both female Dartmouth alums) were the ones who suggested business school as a way to transition into the kind of work in which I can thrive. I was able to tell them what makes me happy in a career and they saw business school as the bridge to get the right credentials and skills. This is why it pays to have great mentors and sponsors.
Why Tuck? What factors figured most prominently into your decision of where to attend?
I loved my undergraduate time at Dartmouth. These were my people—they loved learning and were genuine. I had a mind to go back and once COVID hit, I knew the location would keep me thriving and safe. I also knew that I wanted an international career and Dartmouth/Tuck would be one of the first places to allow international study once it became safe. I am so glad it did. I've built an incredible network abroad for my future move. More importantly, I formed lifelong bonds during my two years at Tuck and reconnected with my support network. The location allows you the seclusion and privacy to be mindful in thinking about your life and goals. I needed that time to figure out where I wanted to go in life and who I want to be. Sometimes, life moves too fast, and Tuck encourages you to slow down and meditate on your goals. It also allows you to form strong bonds with teachers and staff. Tuck, hands down, has the best people, the right combination of quirky and brilliant! They are my village and with them, I feel powerful and me. 
What about your MBA experience prepared you for your current career?
Getting my MSQM (management science and quantitative methods) certification really helped, but I think the analytics courses are what allowed me to become an analytics powerhouse. I must also call out Felicia Swoope, former assistant director for admissions recruitment at Tuck, and her counsel that allowed me to finally start vocalizing my ideas and being a bit selfish in charting my own course in life. It helped at Tuck, and even more now. You wouldn't believe how many times I am told that I take ownership and speak up, a trait that must first be cultivated within yourself.
What was your internship during business school? How did that inform your post-MBA career choice?
My internship was in general management, and I loved it. I had been rejected by all the consulting firms I applied to and, as the career chair of the student government, I wrote about how it is okay to be rejected for the sake of my fellow classmates but also to convince myself and practice vulnerability. I wanted to make sure students knew they weren't alone in those emotions and to put on paper that I also wasn't alone. I went to LBS on exchange shortly after my internship and just felt a pull to give consulting one last chance during full-time recruiting, especially with McKinsey, my current firm. I got the offer and agonized over it for days, even polling an LBS classroom of friends with a PowerPoint presentation and talking to every available ear at Tuck. It was Jen Tietz, former associate director of career services at Tuck, that really settled the decision; she made me give her a non-FOMO reason for choosing consulting. When I made my choice, I called the McKinsey HR contact and then called the Tuck staff that listened to me to tell them the good news. The more I said it, the more assured I was correct in choosing consulting.
Why did you choose your current company? What factors figured most prominently into your decision of where to work?
This was where Jen Tietz and the Tuck Career Services office really helped me. A lot of my earlier reasons for consulting were all about a fear of missing out on opportunities, which I think plagues me as someone who grew up not knowing of these opportunities. It wasn't until she asked me to give her a non-fear reason that I realized I chose my current company because I was excited about what I was going to do and the people there. They reminded me a lot of Tuckies; they were all brilliant and just a little bit strange—in a good way—like me. Everyone I met had that passion for learning. I gave myself permission to just try it out because this job really did seem suited for me. I didn't need to know five or even two years into the future, just my next step. This was the step I was excited to try with people that were just the right kind of interesting.
How has COVID impacted your industry/career plans?
There is less travel than in pre-COVID and more collaborating over Zoom. I think it opened more access to things like learning but also decreased the impact of those gatherings. For my career plans, COVID solidified my dreams of living abroad and making it there sooner rather than later. Living abroad has gone from an impossibility to an aspiration, to a dream, to a goal and, now, after COVID, it is a plan. It also bolstered my interest in the healthcare field, which only continues to increase due to recent events. Is it something I will pursue? Who knows. I think for now, what COVID has taught me is just to take the next step because who really knows what can happen in the span of months. 
Advice to current MBA students: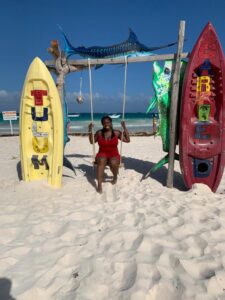 –One thing you would absolutely do again as part of the job search?
Get out of your own way with interviews. You got this. The only difference between the me that got the offer and the me that didn't was that I stopped questioning myself. Post-offer me also had a glass of wine, courtesy of some LBS friends.
–One thing you would change or do differently?
I'm dramatic. I was devastated when I got rejected. Looking back, I would have allowed myself to grieve properly and not put my whole self-worth into a single interview. It is okay to be devastated when things don't work out. Process the emotions, have a cry, and then move forward. Also, recognize that you are not Superman. You are not supposed to be good at everything; even Superman isn't good at everything. Get help and be okay with messing up. 
–Were there any surprises regarding your current employer's recruiting process?
The length wasn't a surprise, but I didn't really understand the physical toll it would take. I think the real surprise was how friendly and casual the interviewers were. I geeked out with two of them on inane topics, and they are my mentors now. I honestly liked them!
–What piece of advice do you wish you had been given during your MBA? 
I was given the advice by Felicia Swoope right before I got in: Be a bit selfish with you, your time, and your energy. You can't take care of everyone if you don't take care of you. If the party isn't your thing, don't go. Pick the classes you want, the people you want to hang out with, and do things you want and need to do to replenish yourself. That doesn't mean to not try new things, but it is okay to recognize when something isn't right for you. As I now say: "Marie Kondo that stuff."