Go behind the scenes of MBA admissions at Cambridge Judge Business School with Head of MBA Recruitment and Admissions Charlotte Russell-Green in this edition of our Admissions Director Q&A series.
After training in Drama and Theatre at Goldsmiths in London, Charlotte transitioned into marketing after graduation and has now worked in the MBA market for over 10 years. She started her MBA career at QS, managing the marketing for the World MBA Tour events in North America, and has worked in admissions and recruitment for the Cambridge MBA for 8 years, admitting 8 Cambridge MBA cohorts. 
Read on for her assessment of what to expect from MBA admissions this year, including testing, interviews, essays, and more.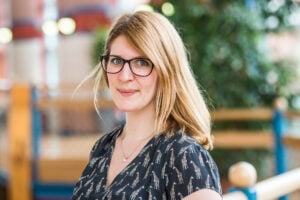 Clear Admit: What is the one aspect of your program that you wish applicants knew more about?
Charlotte Russell-Green: The Cambridge MBA is truly experiential and collaborative in its learning style with a curriculum and offering that you would expect from a world-class university. But what I think is really important to know, is how incredibly practical and experiential the Cambridge MBA is. The world-renowned faculty have cleverly crafted the curriculum to be academically rigorous but also to allow our students to apply and practice what they have learnt in the classroom through real life professional experiences. We have two live consulting projects with corporate clients, as well as the opportunity for an internship in the summer. In addition to this, we have a variety of workshops available that provide students with a portfolio of hard and soft skills that they will be able to utilize in both their long and short-term career, such as critical thinking, coding and leading with intentionality. These workshops have been developed after working with recruiters to find out what specific skills they look for in MBAs
CA: Walk us through the life of an application in your office from an operational standpoint. What happens between the time an applicant clicks "submit" and the time the committee offers a final decision?
CRG: Once the application deadline passes, each application is read by two people – a member of the admissions team and the Head of Recruitment and Admissions, with the latter signing off who is invited to interview. All candidates have to be interviewed, either in person or virtually. Once the interview feedback is in, the Admissions Committee meet and decide on who to make offers to. Offers are usually sent out within 2-3 weeks of the interview.
CA: How does your team approach the essay portion of the application specifically? What are you looking for as you read an essay? Are there common mistakes that applicants should try to avoid? What is one key thing they should keep in mind as they sit down to write?
CRG: We get asked this a lot and it is difficult to answer without giving too much away. The essays are the opportunity for us to see how the applicant thinks, responds and reflects, as well as to get an idea as to whether they are a good fit. Ultimately, what we are looking for is an example that best answers the question and shows your capabilities, resilience, self-awareness and critical reflection, as well as a little bit of who you are. Common mistakes include not actually answering the question and mentioning another school's name (beware of copy and paste!) 
CA: Could you tell us about your interview process? Approximately how many applicants do you interview? Who conducts the interview (students, admissions officers, alumni) and what is the nature of the interview (resume-based, application-based, behavioral)? Will your admissions interviews be in-person or virtual for the 2023-2024 admissions season?
CRG: We are super excited to be reintroducing in-person interviews again this year in rounds 1, 2 and 3. The interview experience includes dinner at one of the famous University of Cambridge colleges with MBA alumni, a careers workshop, lunch with current students and a tour of the city. For those who cannot attend, there will be an online offering as well. Interviews are conducted by either faculty or a member of the senior leadership team. I generally tell people to prepare for the interview in the same way you would a job interview – know your application and CV inside out, and if you have expressed an interest in a certain industry, research it and be prepared to talk about it.
It varies each round as to how many people we interview. Round 3 is the largest round where we interview circa. 200 but the other rounds vary from 40-100 interviews per round. 
CA: What is your testing policy? Do you offer exam waivers? Why or why not?
CRG: We do require a GMAT or GRE – we accept both in equal measure. We do not offer waivers as not only does a standardised test provides a base-line comparison between candidates, it also provides the candidate with an opportunity to compensate for a lower GPA. We do, however, utilise the GMAC Test Taker Citizenship Data, so that we're aware of the average GMAT score for different countries, which allows us to compare scores fairly.
CA: Could you tell us about the waitlist? What can waitlisted applicants do to maximize their chances of being accepted to your program? Does your office allow for waitlisted applicants to submit additional materials (e.g. letters of support, job updates, new test scores, etc)?
CRG: We don't tend to wait list too many people, but when we do, candidates are welcome to submit new information to us. It shows a commitment and interest in the programme, although we encourage candidates to just send one email with all the relevant information in it.
CA: Tell us briefly about two popular courses at your institution.
CRG: The Cambridge MBA has a really wide variety of electives and core courses for a one-year MBA, so it's difficult for me to narrow this down, but I want to highlight some exciting options that are available and always popular with our students. 
Managing for Sustainability has always been popular as not only is it incredibly important to the future of business, it is transferrable to any sector, function or location post-MBA. There will never be a time that the knowledge learnt in this class is not relevant so it's got longevity. 
Secondly, a course that has boomed over the past few years is AI in Business and Ethics. The interest in AI has been on the up since I started in this job but we're now at a point where this course is really popular. Like the sustainability option, it's transferrable to all industries and locations – it is and will affect everyone – so it's a great course option for post-MBA careers.
CA: Is there anything else you'd like to highlight about your MBA program or admissions process?
CRG: The class size is really the sweet spot for us. The circa 200 students is big enough to create a far-reaching, diverse network from the confines of the classroom but close-knit enough for you to work with and get to know everyone in the cohort, and build meaningful relationships with your classmates. The class size also means that you won't get lost in the numbers, you will have an identity in the class and the faculty and staff will know you. 
The class size also allows for the careers team to work with our students on a 121 basis and personalise their career development, working with each individual to define and craft their careers journey. This tailored careers path is what allows for such fantastic post-MBA employment results, including 94% of the class receiving job offers within 3 months of graduating, and is one of the many reasons that we get fantastic feedback about our careers provision every year.