Get an insider's view of MBA admissions at The Ohio State University Max M. Fisher College of Business with Senior Director of Admissions Hollie Hinton in this edition of our Admissions Director Q&A series.
Hollie is a versatile professional who, prior to becoming Senior Director of Admissions, forged multimillion-dollar partnerships between The Ohio State and various industries in the Office of Corporate Relations. In addition to her experience leading a multistate marketing team at DLZ Corporation, she spearheaded the Ohio Governor's Office for Women's Initiatives, advocating for policies benefiting Ohio's 6 million women and girls. She is dedicated to civic work in organizations like the International Women's Forum and the National Society Daughters of the American Revolution. An entrepreneur and small business owner, Hollie is also trilingual and has lived and traveled in over 35 countries.
Read on for her overview of what to expect in Fisher's MBA admissions this year, including essays, interviews, testing, and more.
Clear Admit: What is the one aspect of your program that you wish applicants knew more about?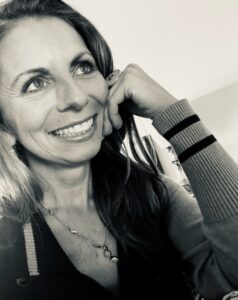 Hollie Hinton: Our program focuses on 3 very distinct areas- Personalized, Integrated and Experiential (PIE). Students work with an academic and career coach throughout the program, to ensure their academic and professional goals are met. Students take 7.5 to 10.5 credits as part of their MBA curriculum in the area of experiential learning. We have an integrated core that spans the first semester, preparing students to understand how various functional areas come together to make informed, strategic business decisions.
CA: Walk us through the life of an application in your office from an operational standpoint. What happens between the time an applicant clicks "submit" and the time the committee offers a final decision?
HH: After a student submits an application within their target round deadline, they need to make sure their checklist listed on their Fisher application portal's home page is finished. Once done, the application will show 'complete' and goes to review by the admissions committee. The committee will take a holistic approach looking at all parts of an application to gauge fit within the class. They will then release admission decisions on the posted decision dates for each round. It is advantageous to apply early to allow for conversations around funding or other topics.
CA: How does your team approach the essay portion of the application specifically? What are you looking for as you read an essay? Are there common mistakes that applicants should try to avoid? What is one key thing they should keep in mind as they sit down to write?
HH: The essay should be used to provide insight about short and long-term goals, and tell us more about you. Go beyond what we can read in your resume and transcripts. The essay should give us a sense of your experiences, thought processes and motivations for applying for an MBA. It should also articulate why you are a qualified candidate and why now is the right time in your career path for this degree program. Common pitfalls would be not answering the questions asked, grammatical errors, or submitting an essay with another university program name, indicating that the writer did not proofread before sending it to us.
CA: Could you tell us about your interview process? Approximately how many applicants do you interview? Who conducts the interview (students, admissions officers, alumni) and what is the nature of the interview (resume-based, application-based, behavioral)? Will your admissions interviews be in-person or virtual for the 2023-2024 admissions season?
HH: All candidates will participate in a recorded interview in order to complete their application. The Fisher College of Business at Ohio State utilizes a short-form video interview feature within our application. This consists of you responding to several pre-recorded questions and one written question.  These are time-limited and candidates will have one attempt at each recorded response, so we encourage you to read the instructions and be prepared in advance.
Whereas we have been conducting almost exclusively virtual interviews in recent years, we are transitioning back to having an in-person option for interviews as well. Live interviews are extended to those the admission committee is considering and can be done in person or virtually. We encourage candidates to treat all interviews as they would treat a professional job interview such as arriving on time, well prepared, and in professional attire. We will offer you the opportunity to ask some questions of us during interviews as well.
CA: What is your testing policy? Do you offer exam waivers? Why or why not?

HH: The Ohio State University Fisher College of Business does offer GMAT/GRE waivers to ensure we identify all future leaders. While a test waiver may benefit some MBA candidates, individuals should consider that the rest of their application will carry more weight without a test score, including their undergraduate GPA. The GMAT and GRE are standard benchmarks for applicants wishing to signal their suitability for a rigorous MBA program. A good test score is also beneficial when seeking merit-based funding in our Full-Time MBA program. Waivers are more common in our Working Professional MBA program, where individuals typically have more work experience to highlight quantitative ability.
CA: Could you tell us about the waitlist? What can waitlisted applicants do to maximize their chances of being accepted to your program? Does your office allow for waitlisted applicants to submit additional materials (e.g. letters of support, job updates, new test scores, etc)?
HH: Applicants put on a waitlist are admissible, but may have applied in an applicant pool that was highly competitive. If you get put on the waitlist, feel free to ask the Admissions Officer if there is anything in your application that can be improved upon. Please note – sometimes there may be multiple items in your application that are holding your application back. i.e. test score and work experience or GPA and interview. Some of these items you have control over, for example, you can retake a test, but other times you may not have control over the item, i.e. GPA.
The Fisher College of Business MBA program reviews waitlisted applications periodically, and you may receive a final decision anytime before the final round decision date.  
CA: Tell us briefly about two popular courses at your institution.
HH: We have a lot of popular courses, but two that come to mind are Ohio State's/Fisher's Global Applied Projects (GAP) course and Negotiations. GAP allows students to make an impact by working for 14 weeks as a consultant with an international company, including one week in-country. We encourage students to take GAP, which is an optional elective. Our Global Applied Projects and Business Lab consulting projects help students put theory into practice while acquiring important skill sets to add to their resume. Negotiations is also popular because it is a good skill set that works for a wide range of interests and is highly applicable in the real world.
CA: Is there anything else you'd like to highlight about your MBA program or admissions process?
HH: At the Fisher College of Business, students benefit from experiential learning, curriculum personalization, and the breadth of resources available at Ohio State, one of the nation's top research universities with more than 600,000 alumni in more than 150 countries. As one of the country's largest universities, you'll have access to the resources needed for success while being a part of a small, highly engaged, and talented cohort in the MBA program. Our students also benefit from being located in one of the fastest-growing cities in the United States. Columbus is home to the 7th largest economy in the United States, with a diverse and rapidly expanding population of 2.3 million people. We are within a one-day drive of 45% of the U.S. population, making Columbus a thriving and expanding hub for Life Sciences, Finance and Fintech, Insurance and Insurtech, Fashion and Retail, Semiconductors, and Supply Chain and Logistics. The cost of living in our region is 10% lower than the national average. Columbus is in the top 10 US Cities in Millennial Generation population concentration, and is home to 16 Fortune 1000 companies – multinationals, nonprofits, and startups.