Danielle Rodriguez chose INSEAD's MBA program to accelerate her career in tech and help her achieve her goal of excelling at Amazon. In this edition of Real Humans: Alumni, Rodriguez explains how INSEAD was the best fit for her plans and more.
Danielle Rodriguez, INSEAD MBA '21, Senior Partner Manager at Amazon
Age: 33
Hometown: Houston, Texas
Undergraduate Institution and Major: The University of Texas at Austin, Biology
Graduate Business School, Graduation Year and Concentration (if applicable): INSEAD, Class of December 2021, Technology & Operations Management
Pre-MBA Work Experience (years, industry): 5 years in Professional/Financial Services, 2 years in Technology
Post-MBA Work Experience (years, industry): 1 year, Technology at Amazon, Launch MBA Rotation Program, Senior Partner Manager for EU Marketplace Compliance
Why did you choose to attend business school?
I chose to attend business school in order to accelerate a career change into tech, in which I had previously changed industry, geography, and function all at once. 
I had been fortunate in my early career to try a wide range of career paths, from performing clinical research to supporting hedge fund managers with investment due diligence to even pursuing a career as a diplomat with the US Foreign Service. However, it was surprisingly while volunteering with a nonprofit in NYC that I discovered how much I loved building "products:" defining a product vision and working with a team to deliver on that vision. I decided to translate these skills to a career in product management and joined RetailMeNot, a coupon aggregator, where I got to sit side-by-side with data scientists building our ranking algorithms even as an industry newcomer. As I wanted to grow more quickly and challenge myself further by moving into big tech, I decided to apply to business school. Coming from a non-business background, I also wanted to pick up foundational skills like strategy, accounting, and finance in order to become a strong technical decision-maker in my field. Lastly, it had always been a professional goal of mine to work abroad for a while and business school seemed like an excellent way to explore options outside the States.  
Why INSEAD? What factors figured most prominently into your decision of where to attend?
1) Format and brand reputation: INSEAD's one-year program was the most efficient route to get me from point A to B in my career, knowing I wanted to transition into big tech as well as gain deep international experience. I knew I would have the opportunity to connect with top employers, given INSEAD's strong brand and even complete a summer internship despite the short timeframe. Compared to the two-year US programs I considered, the one-year program at INSEAD was best from both a time and financial perspective. 
2) International focus: I also wanted to develop my curiosity in building products in emerging markets and learn about new innovation hubs around the world in areas such as payments in Southeast Asia and sustainable development in Europe. With campuses in France and Singapore and classmates from all over the world, there seemed like no better option for really living this experience. 
3) Life experience & alumni community: More than gaining an MBA, INSEAD was my dream school!
Being part of INSEAD's alumni community was a key factor for me. I fell in love with the enthusiastic and warm community and found that each person I spoke to really valued not only the career gains they made from attending INSEAD but also the life experience owing to its unique diversity (our class hailed from 70+ nationalities). 
What about your MBA experience prepared you for your current career?
Formal coursework: Hard skills like finance and accounting provided the foundation to analyze my business, while soft skills training in negotiations and organizational behavior have been essential to ensure that my projects are successful. 
Overall experience: INSEAD prepared me for working across diverse business cultures of both internal teammates at Amazon's EU HQ as well as our external partners. Additionally, attending business school during Covid forced me to become really comfortable with ambiguity and uncertainty. This has been helpful in navigating all kinds of decisions in my current role and career.
What was your internship during business school? How did that inform your post-MBA career choice?
I received internship offers in the States and for Amazon's Launch MBA internship program in Europe, but I had my sights set on Amazon from the beginning, so it was an easy decision for me. The internship itself was brief (eight weeks) but gave me a taste of what it was like to work at the company. It also validated many of my assumptions about opportunities available for MBAs, so I decided to join full-time after receiving a return offer.
Why did you choose your current company? What factors figured most prominently into your decision of where to work?
The key factors for choosing Amazon were the following:
1) Culture: Before business school, I read "The Everything Store" which recounts the story of Amazon's founding and growth. I really admired the leadership principles around which Bezos built the company's culture and which contributed to its success, particularly Amazon's unique writing culture to drive business decisions.   
2) Ownership: I was attracted to the incredibly high level of ownership that MBAs take on as new joiners, with the opportunity to drive tangible impact.
3) Mobility: Amazon has a generalist mindset toward hiring and encourages internal transfers. When you join, you become "Amazonian" and can explore different functions, teams, and geographies in a very fungible way. This was important for me, given the first rotation was fixed and also because I wanted the option to rotate back to the States.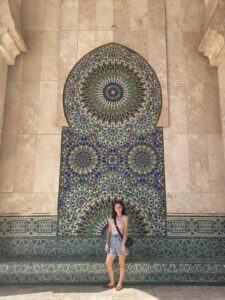 How has COVID impacted your industry/career plans? 
Fortunately, Covid didn't impact my internship or full-time recruiting experience. Many coffee chats and meetups were virtual, but this has resumed a mostly in-person/hybrid format at this point.     
Advice to current MBA students:
–One thing you would absolutely do again as part of the job search?
Talk to a lot of people! Have regular conversations with people working on projects or in roles that you naturally gravitate towards or which pique your interest – and always ask if there is anyone else they think you should connect with. The MBA is the time to really divulge your curiosities and explore options with an open mindset. 
–One thing you would change or do differently?
Don't underestimate the impact of the environment in which you live and how it plays a role in your overall well-being. I started my career at Amazon's EU HQ in Luxembourg, which has been a great opportunity, but my next stop will hopefully be a sunny place more similar to where I come from. 
–Were there any surprises regarding your current employer's recruiting process?
Amazon interviewers actively take notes when interviewing candidates, but thankfully they informed me this was why they often didn't look at the screen when I was speaking, which otherwise might've been distracting.
–What piece of advice do you wish you had been given during your MBA?
INSEAD is an incredibly intense year: it is academically, socially, and physically demanding all at once. While FOMO is inevitable, I would proactively schedule 1x1s with as many classmates as possible instead of always attending parties or larger group settings. We were effectively forced to go this route while studying at the INSEAD Singapore campus and had to abide by the government's "rule of two," which limited interactions to no more than two people in public places. We were worried this would diminish the social experience, but I ended up making more genuine, deeper connections through these 1×1 chats than might have been possible otherwise by chance alone.