We welcome Blair Mannix, the Director of Admissions of the University of Pennsylvania's Wharton School, to this installment of our Admissions Director Q&A series.
Blair has over 16 years of experience in selective admissions at the University of Pennsylvania. She was made Director of MBA Admissions in 2018. In 2020, Blair was instrumental in delivering the Class of 2022 through pandemic lockdowns. She created a homegrown virtual platform, called Wharton HQ, to communicate with admitted students. Wharton HQ was home of virtual tours, webinars, FAQs, and a direct line to the Admissions office. In the Fall of 2022, Blair took over leadership of the Wharton MBA for Executives Admissions Office and was named Executive Director of Graduate Admissions. Blair has a deep passion for the business of admissions. She has a masters degree from the University of Pennsylvania's Graduate School of Education studying early decision programs at selective schools. She hails from suburban Washington, D.C., and currently resides with her family in the suburbs of Philadelphia.
Read on for Blair's insights into the admissions process at Wharton, what to expect in the interview and more.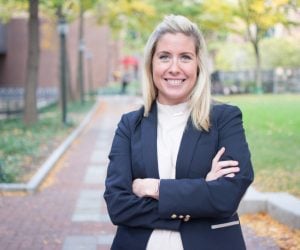 Clear Admit: Walk us through the life of an application in your office from an operational standpoint. What happens between the time an applicant clicks "submit" and the time the committee offers a final decision?
Blair Mannix: The overall philosophy we have is one I call "read to admit." When an application gets submitted, it is immediately read by two different application readers in a blind context. This means that both readers have no idea who the application belongs to and what the other reviewer thinks of its components. We think blind reads are important to reduce the chance of bias. 
We look at every single application in a committee setting before we release interviews. We look at the entirety of the pool to start crafting the class at the interview stage. Then, we launch our interviews. We interview less than 50% of applicants per round.
We strongly believe in observing individual behaviors in a group setting, and that's why we conduct group interviews, or Team Based Discussions. We believe this format is indicative of the classroom experience at Wharton, and we want our candidates to feel that during their interview. Interviewees receive the same prompt beforehand and have plenty of time to prepare. We like this format because you can't game the system –introverts do just as well as extroverts. 
After that, we get the results of the Team-Based Discussions, and the applications are read again. We then sit in a committee and make decisions considering each candidate's application and their interview performance. We also bring in other experts from around the school to make sure that we're making the correct decisions in each individual place. 
After our committee sessions have concluded, we prepare to release all decisions at the date and time we promise applicants at the time they submit. We've worked hard to minimize any amount of stress on decision day and always deliver on our promise to have decisions released at the same time. That is something I'm proud of.
CA: How does your team approach the essay portion of the application specifically? What are you looking for as you read an essay? Are there common mistakes that applicants should try to avoid? What is one key thing they should keep in mind as they sit down to write?
BM: When evaluating the responses to both essay prompts, we consider very practical concerns. Did the candidate demonstrate that they're capable of writing and communicating in a rigorous academic environment? Did they answer the questions? There are instances in which applicants may try to reconfigure their responses from other essay prompts, and they ultimately do not share with us their motivations, professional aspirations, and potential contributions to the Wharton community. Other candidates rehash their resumes in list form instead of demonstrating effective synthesis in their writing. The essays are one of the only application components that are truly organic; applicants have complete control over their responses. They might consider some pre-writing prompts before crafting their essays. For our first essay: Where do I see myself directly after completing my MBA? After five years? Ten? For our second essay: Envision yourself as a Wharton alum. What community legacy did you leave behind?
CA: Could you tell us about your interview process? Approximately how many applicants do you interview? Who conducts the interview (students, admissions officers, alumni) and what is the nature of the interview (resume-based, application-based, behavioral)? Will your admissions interviews be in-person or virtual for the 2023-2024 admissions season?
BM: The Wharton MBA Program runs a skills-based interview that we call a Team Based Discussion. There's a lot of research available from both academic and corporate sources that behavioral one-on-one interviews are not always the best at determining talent for both a school or an organization. I feel very strongly about using a skills-based approach to our interviews, backed by data.  Data to tell us what types of students flourish in a group setting indicative of the Wharton MBA Program. We have been running Team Based Discussions for over 10 years and have a lot of experience doing them well. We put out a lot of resources to our candidates that are invited to interview to help them prepare intentionally for their Team Based Discussion.
The interviews are conducted by a mix of second-year students and full-time admissions committee staff members. All interviews will be conducted virtually for this application season and going forward.
CA: What is your testing policy? Do you offer exam waivers? Why or why not?
BM: When COVID disrupted life in the Spring of 2020 we saw many peer institutions either drop testing requirements or offer waivers. Even during that time we felt strongly about our testing requirement. We have done a lot of data analysis on the predictive power of standardized testing within the Wharton classroom and beyond, and due to that research, the standardized testing component of our application will remain the same going forward.
CA: Could you tell us about the waitlist? What can waitlisted applicants do to maximize their chances of being accepted to your program? Does your office allow for waitlisted applicants to submit additional materials (e.g. letters of support, job updates, new test scores, etc.)?
BM: First, I want to say that we feel very strongly in our office about keeping what I call a moral waitlist, meaning we intentionally keep an extremely small waitlist. Our intention is to not to keep a candidate's decision ambiguous for too long as we realize how stressful it may be to wait for a decisions throughout the summer. With a small waitlist, that means that anyone who is placed on our waitlist has a very strong chance of being admitted. I don't think people may realize that! I'm happy to have the opportunity to communicate that through Clear Admit. If you have updates to your application while on the waitlist, specifically new jobs or promotions, we would like to hear from you. Once you are placed on the waitlist, there's no reason to take additional testing.