In this installment of our Admissions Director Q&A series, David Simpson, the Recruitment and Admissions Director for the MBA and Masters in Finance (MiF) programs at London Business School, joins us to talk about admissions.
David has been with the School for over 25 years, starting in admissions, moving through various roles in marketing and business development, before returning to admissions. His undergraduate degree is in business, majoring in international marketing. In his time at London Business School, he has enjoyed travelling the world to meet prospective applicants. He's loved reading thousands of applications in the search to select the most talented candidates for the MBA and Masters in Finance, learning something new every day about global business and different cultures. David leads the MBA and MiF Admissions Committees, setting policy and advising on candidate selection; and sits on the MiF Strategy Board and MBA Curriculum Committee. He has also served on the School's Governing Body.
Keep reading to get David's insights into what to expect this year in admissions, from interviews to essays and more.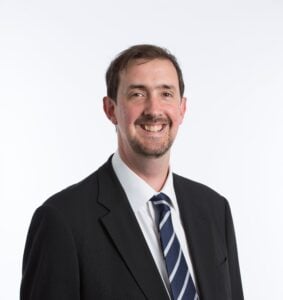 Clear Admit: What is the one aspect of your program that you wish applicants knew more about?
David Simpson: London Business School is a global and vibrant business community in one of the world's most dynamic cities. I wish applicants could experience a week in the life of an LBS student. If they did, they would see how special our community is and how our location adds so much value to their business education. 
It's hard to explain the impact of our lively classes with world-class faculty and experienced students from more than 70 countries. Our London advantage means you can take a quick Tube ride to meet companies representing every sector; or invite leaders and influential people onto campus to speak. We choose students who all want to discover the power of working together in our student clubs, organising amazing events and conferences and utilizing the global LBS network.
CA: Walk us through the life of an application in your office from an operational standpoint. What happens between the time an applicant clicks "submit" and the time the committee offers a final decision?
DS: We value and appreciate every single application we receive. We know how much work candidates put into their applications. I've read thousands over the years and I never forget that each one comes from someone who is excited to join our very special community. 
When you click submit and apply, our Operations team prepares everything for the Admissions team to read. Your application is initially read by at least two members of our team. We aren't looking for reasons to reject you, we are looking for all the positive attributes of applications. If we think you could possibly be a good match for us, we invite you to an interview with one of our alumni around the world. After that interview, your application and the interviewer feedback will be read again by the Admissions Committee to reach a final decision. We might consult colleagues from different teams for their views, e.g. sector specialists in the Careers team.

The whole process takes 8-12 weeks, depending on the admissions round. You may be offered a place, denied, or placed on the Waitlist. 
CA: How does your team approach the essay portion of the application specifically? What are you looking for as you read an essay? Are there common mistakes that applicants should try to avoid? What is one key thing they should keep in mind as they sit down to write?
DS: We have one compulsory essay. It is very practical and asks you: 'What are your post-MBA goals and how will your prior experience and the London Business School program contribute towards these?' We want to know about your general plans and career direction. It's not a contract though, and most students change track from their initial thoughts.
This is your opportunity to show us that you have researched us and can see how we could fit into your future career and life journey.
One key writing tip: When you're telling us about your career so far, be sure to talk about your roles and company descriptions in language we can understand. Answer all the questions we ask about your roles and the organizations you worked at, so we can understand what experience you have.
Tell us about yourself in detail, but not too much detail! Think whether what you are telling us is relevant and interesting.
Another top tip when writing anything: Have your reader in mind when you are writing. Ask yourself, "Who are they?" and "Will they understand what I am writing?"
We ask a lot of shorter questions throughout the application, which we think is a better way to get to know you than asking for several longer-form essays. 
CA: Could you tell us about your interview process? Approximately how many applicants do you interview? Who conducts the interview (students, admissions officers, alumni) and what is the nature of the interview (resume-based, application-based, behavioral)? Will your admissions interviews be in-person or virtual for the 2023-2024 admissions season?
DS: The interview is nearly always with alumni, (senior admissions staff also carry also out a few interviews) and will be arranged by your own dedicated Regional Manager. They will match you with alumni who are often from the same country as you and employed in the sector you hope to work in. The alumni will meet you in person or virtually and send their feedback to us for final review by the Admissions Committee. You will also complete a video submission, comprising two questions linked to LBS and our values. Don't get stressed about the idea of having to provide videos, we just want to see how you communicate. It helps the Committee to see everyone on video for consistency, given that we have hundreds of different alumni who interview prospective students.
We typically interview less than half the applicant pool, but we allow the number to vary naturally, rather than aiming for a specific number or percentage of the pool.
The interviewers complete a comprehensive feedback form, covering lots of different elements. They are given guidance and a set of example questions, but we trust them to conduct the interview in the way that they can best learn as much about you as they can. They'll explore your career history, personal work style, leadership and team experiences, and potential contributions to the community they are so proud of. Utilizing local alumni communities means they can explore everything in greater detail, as they'll understand your working environment, cultural reference points and life stories better than we in the admissions team could. Students often tell us that the interview was their favorite part of the admissions process, as they had the opportunity to speak to someone who had been in their place, completed the program and then started a successful career.
CA: What is your testing policy? Do you offer exam waivers? Why or why not?
DS: All applicants have to take the GMAT or GRE. We do not offer waivers. We are comparing applicants from 100 different countries who have such different backgrounds. We understand how university systems work all around the world, but a standardized test offers a consistent tool for comparison.
We do not obsess about scores though. The average score can be up or down each year, although the range tends to be fairly consistent.
Our advice is to prepare thoroughly, especially on the quantitative side, and give it your best shot. Retake it if you feel you could have done better; that shows commitment and ambition.
CA: Could you tell us about the waitlist? What can waitlisted applicants do to maximize their chances of being accepted to your program? Does your office allow for waitlisted applicants to submit additional materials (e.g. letters of support, job updates, new test scores, etc.)?
DS: I think we might be unique in having a manager who specifically looks after candidates on the Waitlist, as we know it can be a stressful time. They may offer to meet you (virtually) and ask you some specific follow-up questions. You can send materials IF you think they are relevant and add value. But be careful, sending too much or irrelevant materials can be counterproductive. You should retake the test if your score was low or you think you could do a lot better. We don't generally want extra letters of recommendation. 
Our Waitlist Manager will communicate updates at set dates through the cycle – usually just after a decision point in our admissions timetable e.g. an acceptance deadline.
CA: Tell us briefly about two popular courses at your institution.
DS: The most popular electives always include LBS classics such as Negotiation and Bargaining and Advanced Corporate Finance; alongside more niche courses such as Managing Healthcare, Luxury Strategy and Managing Sport and Entertainment. However, I think I'd like to mention a couple of newer electives.
Diversity Science for Leaders, taught by Associate Professor of Organisational Behaviour, Aneeta Rattan. 
Dr Aneeta Rattan's research interests focus on mindsets and intergroup relations (stereotyping, prejudice, and inequity). Understanding diversity and being able to address issues of bias in organizations is no longer a 'nice-to-have' leadership skill – it is a must-have. This elective looks at why so many leaders get it wrong, failing to create inclusive environments for racial minorities, women, LGBTQ+ individuals, and other underrepresented backgrounds. And considers why organizations don't make more progress on diversity given how much they talk about it.
Finance & Sustainability, taught by Assistant Professor of Finance, Lakshmi Naaraayanan
As traditional capitalism is entering a new phase of shared economic and social value, sustainable finance is quickly becoming a core part of the mission of every business. At the same time, there is the utmost need for us to take collective action on the urgent environmental and social problems of our time. As future leaders, entrepreneurs, and investors, this course arms students with the tools, frameworks, and insights to tackle sustainability issues. This course highlights the role of finance in impacting and addressing sustainability challenges. Businesses and managers are increasingly trying to balance serving the diverse interests of stakeholders, employees, and communities with generating profits. At the same time, investors and investment managers face challenges in incorporating non-financial data into their decision-making to identify opportunities for value creation and address the long-term sustainability of their investments. 
CA: Is there anything else you'd like to highlight about your MBA program or admissions process?
DS: We have worked hard to make the LBS MBA an incredibly flexible and customizable program. From the choice of 15,18 or 21-month exit points, to choosing options from the Tailored Core and a large and varied elective portfolio, the LBS MBA provides personalized journeys to suit students' diverse aspirations. Career paths and employer requirements have changed rapidly over recent years and modern professionals need to be equipped for managing change, ambiguity and shifting global trends. 
The applicant experience is a two-way process, where we get to know you in detail, and applicants get to learn all about our amazing community. Applicants show us, through the application process, that you understand what makes London Business School special and how you can have an impact on our community and later, the world.