In this edition of our Admissions Director Q&A series, we meet Stephanie Kluth, the Director of Admissions at ESMT Berlin.
Stephanie has been working for ESMT since its founding in 2002 and has been heading the Admissions office since 2005. Prior to joining ESMT Berlin, Kluth worked at the Aspen Institute Berlin and the Jewish Museum Berlin. Berlin has been her home for many more years, so she knows the city inside and out. She knows every full-time MBA alumnus/a who has studied at ESMT, and she and her rescue pup would be happy to welcome you to campus and the alumni network.
Continue reading for her insights into MBA admissions, including interview prep, writing effective essays, and more about ESMT Berlin.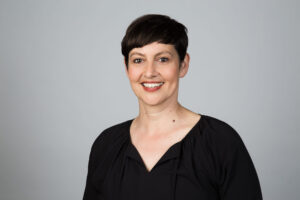 Clear Admit: What is the one aspect of your program that you wish applicants knew more about?
Stephanie Kluth: The Full Time MBA program from ESMT Berlin puts student choice at its core. The program is designed to give you control over the types of skills, experiences and insights that you acquire during the program, so that you can tailor your MBA to the career that you want to pursue. 
Additionally, you will enrich your experience by studying in small classes with 55-65 students from across the globe who share our passion for responsible leadership. The Full-time MBA class of 2024 comprises students from 24 nations with experience in a range of different industries, such as technology, healthcare, e-commerce, financial services, manufacturing, consulting, and more. The small cohort ensures you will get an intense networking with peers and faculty members. We believe that a diverse classroom experience forms the cornerstone of the MBA: because it gives students the experience, exposure and connections to become truly global leaders.
CA: Walk us through the life of an application in your office from an operational standpoint. What happens between the time an applicant clicks "submit" and the time the committee offers a final decision?
SK: For most applicants, the admission process can be completed in under 2 weeks. Once an application is submitted, our admissions team will carefully screen the documentation and essays. We're looking for individuals who are at the right stage of their career, with at least three years of professional experience, who have already demonstrated a potential to lead and succeed, with a profile that suggests they will benefit personally and professionally from the course specificities at ESMT. We will then hold an interview and make our recommendation to the admissions Committee. They will make the final decision on whether or not to offer a place to the applicant and communicate any scholarship decision as well.  
CA: How does your team approach the essay portion of the application specifically? What are you looking for as you read an essay? Are there common mistakes that applicants should try to avoid? What is one key thing they should keep in mind as they sit down to write?
SK: The essay should introduce the applicants as individuals and show us how unique they are when compared to other applicants with the same test scores and similar professional experience. Applicants need to take some time to think about some fundamental questions. What are my strengths and weaknesses? (Not what would I like them to be) What do I want to achieve by doing an MBA? Where do I see myself after graduation? Having clear plans helps applicants present a compelling picture of who they are, where they are heading, and why an MBA is critical for them to reach this goal. We would like to see something unique and hope that applicants avoid buzzwords or clichéd terms. 
CA: Could you tell us about your interview process? Approximately how many applicants do you interview? Who conducts the interview (students, admissions officers, alumni) and what is the nature of the interview (resume-based, application-based, behavioral)? Will your admissions interviews be in-person or virtual for the 2023-2024 admissions season?
SK:  Our admissions team generally conducts our interviews. In the interview, it is essential that applicants convince us they are the best candidate for the place in that class. We are looking for a candidate who shares ESMT's values, who we believe will contribute positively to the classroom and work constructively in group projects. Applicants should be able to identify their personal priorities, strengths, and weaknesses and define how they will contribute to the class.  
In a nutshell: give natural, well-structured, and confident answers. Treat it like a job interview, show your knowledge of the ESMT program to which you have applied, and be prepared to demonstrate how and why you're the right fit. Do your research by speaking with alumni or students before the interview. Be polite and enthusiastic and let us know more about your motivations for applying. Most importantly, take some time at the end to ask questions, so that you can be certain ESMT is the right school for you. 
Most of our interviews take place virtually for the convenience of the applicant.
CA: What is your testing policy? Do you offer exam waivers? Why or why not?
SK: We ask for a strong GMAT, GRE, Executive Assessment, or ESMT admissions test scores (the average GMAT score is 640, but we don't have a minimum score, as each application will be evaluated holistically). Increasingly candidates are opting for the flexibility of taking the ESMT admissions test, which takes less time to prepare and can be completed fully online in two hours. 
We also ask for English proficiency test scores, if applicable. We offer a waiver if English is your native language, or if you earned a university degree taught exclusively in English. Professionals working in English for more than a year might also get a waiver.  
CA: Could you tell us about the waitlist? What can waitlisted applicants do to maximize their chances of being accepted to your program? Does your office allow for waitlisted applicants to submit additional materials (e.g. letters of support, job updates, new test scores, etc.)?
SK: We have waitlists for some of our programs, however, these would generally be as a result of reaching our maximum class size. We do our best to ensure that places and scholarships are available until the end of the admission rounds, but early application is always encouraged. 
A candidate would need to drop out or defer for us to approach a candidate on the waitlist. They don't need to submit any additional materials to be called.  
CA: Tell us briefly about two popular courses at your institution.
SK: Managerial Analysis & Decision Making, Prof. Francis de Véricourt, co-author of Framers.
"This course exposes different pitfalls in making decisions based on intuition and proposes a framing approach as a way to avoid these psychological traps. Frames, or "mental models", are simplified representations of uncertain situations that allow possible scenarios or counterfactuals (i.e., ask "what if" questions) to be considered, and provide an opportunity to learn more about the issue at hand. The course explores the art of framing a decision problem and introduces a commonly used modeling tool to help in this process. Students will also explore how to create an environment in which good decisions are made. Depending on the context, this may involve facilitating an atmosphere conducive to creativity, or assembling teams optimally to best take advantage of different perspectives distributed across individuals." 
Data Analytics for Managers, Prof. Catalina Stefanescu-Cuntze.
"The objective of this course is to help students become more comfortable with simple quantitative methods. They will discuss concepts that will enable them to understand topics such as corporate risk, market research and forecasting, which are encountered later in the program. The aim of this course is to teach when a technique is appropriate and what it can achieve, leaving the computational aspects to the computer. The emphasis throughout the course is on concepts and reasoning, rather than technical details." 
CA: Is there anything else you'd like to highlight about your MBA program or admissions process?
SK: At ESMT Berlin, one of our guiding missions is to develop responsible leaders for the future. This is really reflected in the opportunities available to students of the Full-time MBA, where those that want to can apply their new skills and experiences to help organizations with specific social impact objectives and contribute to a positive cause. 
Our MBA program now lasts for 15 Months, as opposed to the one-year program we offered before. This gives the students not only academic excellence but also the chance to do a Summer Internship, Summer Language School, or a Social Impact Project during the summer. This is a fantastic opportunity to gain some practical experience, expand their network, enrich their CV and boost employability.