In this installment of our Admissions Director Q&A series, we welcome Steve Thompson, Senior Director of Admissions at Northwestern University's Kellogg School of Management. As the leader of Full-Time admissions, Steve is focused on attracting the best and brightest candidates to Kellogg's portfolio of Full-Time MBA programs. Steve has played a critical leadership role at Kellogg since January 2018, when he first joined the team as director of the Executive MBA Program. Prior to Kellogg, Steve worked at IE Business School as the Executive Director of the International MBA Program.
Read on for highlights of Kellogg's MBA program and Steve's insights into essays, interviews, and what to expect from admissions this year.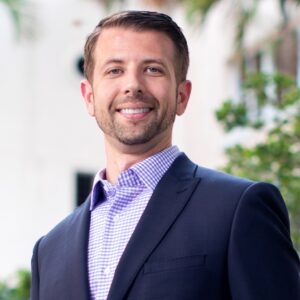 Clear Admit: What is the one aspect of your program that you wish applicants knew more about? 
Steve Thompson: It's hard to choose, here are a few: 
The strength and legacy of our healthcare programming.

Healthcare at Kellogg started in 1945, making Kellogg the first business school to focus on the business of health.

As a result, we have alumni that are business leaders in all facets of the healthcare ecosystem including leading Fortune 500 healthcare companies, biopharmaceuticals and healthcare startups. We have a dedicated healthcare pathwaywhich prepares students for the unique challenges and opportunities in the industry through a mix of foundational and experiential courses. Students can pursue  specific tracks tethered to their post-grad interests such as healthcare entrepreneurship, life sciences and products or payer/provider issues
Our increased focus on private equity

. Private equity (PE) is the top destination for our students seeking jobs in financial services, with, thus far, 10% of our Class of 2023 graduates accepting a job offer in this field. To meet the increased demand from students, Kellogg has been expanding its PE resources, including adding the Advanced Private Equity Experience (APEX). This highly competitive opportunity provides students with an innovative academic and student experience that includes 1:1 industry mentorship, an accelerated PE curriculum with an advanced deep-dive course, as well as mentorship from Kellogg faculty.
Our broad portfolio of programs.

A unique benefit to Kellogg's full-time MBA program is the flexibility combined with a portfolio of five distinct MBA programs that have been intentionally designed to fit students' personal and professional interests. And while these programs provide distinct core curriculums, the elective period gives all our full-time MBA students with the opportunity to take classes together and learn from each other's unique insights.
Our newest program, the MBAi, is designed to prepare professionals to drive strategic business innovation while understanding the complex nuances of the technology that enables it. The unique curriculum includes machine learning, robotics, computational thinking for business, fintech, introduction to the frontiers of science and technology, and how data science and artificial intelligence are driving innovation. The program is five-quarters and includes a full-time summer internship and an industry immersion in the San-Francisco Bay area. Students will receive a joint MBA degree from both Kellogg and the McCormick School of Engineering.  
CA: Walk us through the life of an application in your office from an operational standpoint. What happens between the time an applicant clicks "submit" and the time the committee offers a final decision?
ST: By the time an applicant clicks submit, we understand that they've put extensive time, effort and thought into the application. With that in mind, we thoroughly review each application to best understand the experiences and motivations of each candidate. For this reason, we introduced the video essay several years ago as to provide a valuable opportunity for candidates to tell us more about their story and experiences, beyond their application. 
In addition to the video essays, we strive to interview as many candidates as possible and collaborate with our wonderful network of alumni to help achieve this objective. 
All of these inputs come together to create a holistic review process that enables us to understand not just what a candidate hopes to get out of their MBA, but also what they will bring to the experience of other students and the Kellogg community as a whole. 
CA: How does your team approach the essay portion of the application specifically? What are you looking for as you read an essay? Are there common mistakes that applicants should try to avoid? What is one key thing they should keep in mind as they sit down to write?
ST: We are looking to get to know candidates beyond their test scores and resumes. The essays are a terrific opportunity to go beyond what you do for a living and show us "the how" and "the why." We want the essays to be authentic and encourage applicants to avoid a generic response. 
Our first written essay question asks candidates to reflect on how they relate to Kellogg's purpose, how they think critically, and their leadership journey thus far: Kellogg leaders are primed to tackle today's pressing concerns everywhere, from the boardroom to their neighborhoods. Tell us about a time in your life where you've needed a combination of skills to solve a problem or overcome a challenge. Which skills did you use?
Our second written essay is designed to learn about each candidate's unique experiences:  At Kellogg, our values are based on research that concludes organizations comprised of leaders with varied backgrounds and perspectives outperform homogeneous ones. How do you believe your personal and professional experiences to date will help to enrich the Kellogg community? 
We prompt our applicants with these questions as a means to uncover the details of what motivates and inspires them. What drives them when they get up every morning? How will this make them meaningful members of our community at Kellogg? How will it shape the kind of leader they will become one day? We're confident that these essays will help our team identify the candidates who will thrive at Kellogg.  
My advice for candidates is to avoid telling us what they think we want to hear. Make sure your essay represents you and only you – is what you are conveying broad and lacking in substance, or are you giving us concrete insights into how you think and work? If it's the latter, your essay is probably on the right track.  
CA: Could you tell us about your interview process? Approximately how many applicants do you interview? Who conducts the interview (students, admissions officers, alumni) and what is the nature of the interview (resume-based, application-based, behavioral)? Will your admissions interviews be in-person or virtual for the 2023-2024 admissions season?
ST: Because collaboration and forming connections is such an important part of the Kellogg culture, we seek to interview as many applicants as possible. Though, while we highly value the interview, it is important to remember that it is just one way for us to get to know an applicant.
Interviews are conducted by students, alumni and admission officers who all have the primary objective of getting to know the applicant on a deeper level. 
We will continue to have virtual interviews this year.  
CA: What is your testing policy? Do you offer exam waivers? Why or why not?
ST: Kellogg's application requires you to submit a GMAT, GMAT Focus, or GRE score; no preference is given to one particular test so choose the option that works best for you. For those whose native language is other than English (and did not earn a degree from an accredited institution where the language of instruction is English) a TOEFL, IELTS or Duolingo score is required.
CA: Could you tell us about the waitlist? What can waitlisted applicants do to maximize their chances of being accepted to your program? Does your office allow for waitlisted applicants to submit additional materials (e.g. letters of support, job updates, new test scores, etc.)?
ST: Kellogg is fortunate to receive applications from so many qualified candidates around the world. We do not place someone on the waitlist if we could not picture them thriving in our community. 
Those on the waitlist can submit updates via their candidate portal.
CA: Tell us briefly about two popular courses at your institution.
ST: The importance of artificial intelligence in the current business landscape requires understanding not only the technology itself, but the societal, ethical, and organizational implications of this technology. In addition, navigating these issues involves increasing collaboration with these technologies. Our course Leading AI: Organizations, Ethics and Society, taught by Professors Adam Waytz, Hatim Raham and Leslie DeChurch, focuses on helping students think through these issues as leaders, and to anticipate quandaries that might arise through increasing reliance on AI and how to address them.     
The Economics of Energy Markets and the Environment, taught by Professor Meghan Busse, is in high demand among our student body that is increasingly focused on sustainability. Energy industries are particularly strongly driven by fundamental economic forces, which means that strategy setting and decision-making in energy (and energy-facing) industries rely on having a good understanding of how energy markets work. While the course covers various energy industries, the main emphasis includes microeconomic tools of analysis that are useful across multiple industries. Topics include the drivers of supply and demand in competitive energy markets, including the roles of storage and transportation, market power and antitrust concerns, and the rationale for economic and environmental regulations.
CA: Is there anything else you'd like to highlight about your MBA program or admissions process?
ST: Kellogg equips leaders with a unique combination of analytical, creative and social intelligence that enables them to lead diverse teams and navigate companies through today's rapidly evolving marketplace.   
Business education has never been more important as future business leaders prepare for the rapid change the world is facing day in and day out – from navigating emerging technologies to shifts in stakeholder expectations and changing workforces, to simply consumer behavior.   
Our admissions process utilizes a strong, holistic evaluation process that assesses a candidate's curiosity and capability to understand and tackle complex issues in business and society. We seek to understand their abilities on many fronts, including academic accomplishments, professional experiences, and leadership potential, to name a few.