The NYU Stern School of Business has announced its new Stern at NYU Abu Dhabi One-Year Full-time MBA Program. The program, a partnership between Stern and NYU Abu Dhabi (NYUAD), is the first full-time MBA offering from a top U.S. business school in the Middle East. It is designed for early-career professionals interested in building a career in the Middle East and North Africa (MENA) region. 
In the school's press release, Dean of NYU Stern School of Business Raghu Sundaram stated, "The introduction of this full-time MBA to the MENA region is groundbreaking for students who want to earn an MBA from one of the world's leading business schools in just one year and build a career in a region that is seeing exponential growth. Through this pioneering collaboration with NYU Abu Dhabi, we have a wonderful opportunity to educate the next generation of leaders and enhance the talent pipeline in the UAE."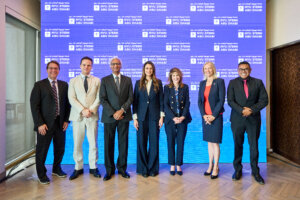 NYUAD, one of NYU's three global campuses and numerous satellite study-abroad sites, is the first comprehensive liberal arts and research campus in the Middle East to be operated abroad by a major American research university. Students will enjoy the opportunity to take advantage of the private and public sector growth in the MENA region at the UAE's premier institution for the advancement of economics and culture. 
The one-year MBA program requires 54 credits, which mirrors two-year programs. The program blends coursework with practical, hands-on experience by integrating experiential internship-like projects into the curriculum and partnering with local organizations.
The inaugural Dean of Stern at NYUAD and leading the program is Robert Salomon, Professor of Management at NYU Stern, who has been teaching and conducting research on globalization and global strategy for more than 25 years. He is the author of Global Vision: How Companies Can Overcome the Pitfalls of Globalization. Salomon has also held positions at IESE Business School and USC Marshall.
Students will be taking spring and fall modules in Abu Dhabi and summer modules in New York City, benefiting from industry expertise from various influential and innovative UAE and global business leaders. Upon completion, students will graduate with a New York University MBA degree conferred jointly by NYU Stern and NYUAD.
The first cohort begins classes in January 2025, and applications are scheduled to open in October 2023. Interested prospective applicants can find more information here.