We continue our new series that gives MBA programs the stage to talk about sustainability–how it's incorporated into their curriculum, related resources for students, and more. For this installment, Duke Fuqua shares how they sewn sustainability into their school.
Clear Admit: How does the curriculum for full-time MBA students support leadership in sustainability, or how is it evolving to do so?
Duke Fuqua: We believe MBAs need to understand the implications of climate and sustainability across every sector and level of business. With that in mind, our curriculum is designed to prepare students to make an impact regardless of their industry or job functions, including roles that do not have a specific environmental focus.
We are fortunate that our Center for Energy, Development, and the Global Environment (EDGE) has long been a leader in educating our students and MBAs across the world in these areas. EDGE Seminar, a course available at Fuqua for a decade now, connects students with senior executives to learn about and discuss the most relevant and pressing environmental issues business leaders face today.
Students looking to dig deeper can pursue a concentration in energy and environment or energy finance. We also offer dual-degree programs where students can pursue their MBA and Master of Environmental Management or Forestry with Duke's Nicholas School of the Environment.
Additionally, our faculty are deeply interested in studying these topics and frequently infuse classes that are traditionally not within the realm of climate and sustainability with insights that explain implications.
CA: What additional resources, such as clubs, centers, etc., are available for those who want to pursue careers in sustainability
DF: There are countless resources for students seeking to pursue careers in sustainability. Below is just a sampling of what is available to students at Fuqua and within the wider Duke community.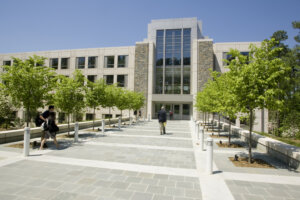 CA: How is your business school embracing sustainable practices in terms of campus life? Are there any environmentally-friendly features you would like to highlight about the facilities?
DF: Duke is deeply dedicated to solving climate issues and improving sustainable operations, both on campus and beyond. This year, the university dedicated additional resources to this cause, and in 2024, it aims to become one of the first universities to reach carbon neutrality.
Duke has also joined the climate effort on Governors Island in New York—with Fuqua Dean Bill Boulding playing a big role—and we expect this will also create new opportunities for students.
CA: Do you have any future plans related to sustainability that you'd like to share?
DF: This Spring our students will participate in a new iteration of our Global Academic Travel Experience course focused on climate sustainability in Scandinavia. MBA students will learn about some of the world's most innovative sustainability strategies and the companies leading the way. The course concludes with a 2-week tour through Denmark and Norway.
CA: Anything else you'd like to add?
DF: At Fuqua, we recognize that advancing more sustainable business practices in the future is going to require leadership from all business students, not just those within our walls. We'd love to invite pre-MBAs and MBA students from any school to make use of our open-source education platform called MBA EDGE. It features briefings on different social and environmental topics, from biodiversity to the future of work with AI, and their implications for business.
Photos courtesy of Duke Fuqua. Stay tuned for upcoming content on sustainability at leading MBA programs!