Emory University is excited to announce its 4th Annual John R. Lewis Racial Justice Case Competition (JLCC), a national case competition focused on the intersection of business and racial equity.
Spearheaded by Goizueta Business School's students, the University is carrying on its tradition of honoring the late civil rights icon, John R. Lewis by connecting corporate and community leaders with talented university students to help devise bold, actionable, and innovative solutions to address issues of racial inequities within businesses and industries.
In past years, more than 90 universities from across the country have participated including student teams from the Wharton School of the University of Pennsylvania, Harvard Business School, and Kellogg School of Management. Former participants have had the opportunity to work directly with businesses such as UPS, IBM, Accenture, Taco Bell, HP, Johnson & Johnson, and Moderna.
The competition will culminate in a two-day event, February 22nd and 23rd, 2024, where semifinalist teams will present their findings in person in Atlanta (expenses covered by JLCC). Teams will have an opportunity to participate in the JLCC Summit, a day of programming that provides a platform for companies and community leaders to share initiatives, emerging ideas, and actionable insights to address racial inequities.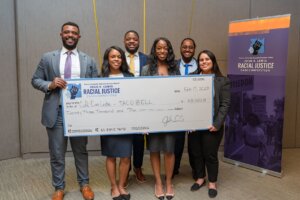 Last year, MBA students from Indiana University's Kelley School of Business took home the top prize with their "Ringing the Bell" strategy for Taco Bell. JLCC is excited to continue working with the best and brightest students across the country to curate impactful solutions for national and global companies.
The prize for the winning team (3 to 4 members) is $20,000 split with a nonprofit organization of their choosing and the timeless recognition of being a part of the JLCC legacy.
All university students are eligible to participate, including graduate (MBA or otherwise) and undergraduate students.
Applications are open through November 17, 11:59 PM EST. For additional information, visit emory.biz/jlcc.