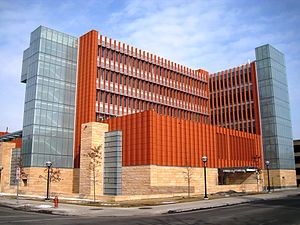 Our 2014 Admissions Director Q&A with Soojin Kwon, the director of admissions at the Ross School of Business, is now available. 
Soojin Kwon, herself a graduate of the Ross School of Business, knows the school's admissions process from both sides. She has been leading the admissions team at Ross as director of admissions since June 2006. During her tenure at the school, she has worked to increase the transparency of the application process through her blog and other online forums.
Kwon was named one of the 40 Under 40 by Crain's Detroit Business in 2008. Prior to joining the Ross Admissions Committee, she put her Ross MBA to work as a manager at Deloitte Consulting and as an analyst for both the U.S. Senate Budget Committee and the U.S. Department of Commerce. She is currently on the board of the Forté Foundation, which encourages talented women to pursue careers in business, served as the chair of the 2012 GMAC Annual Conference and is a member of the ETS Business School Advisory Council.
Kwon, who we first interviewed in 2008 for this series, was kind enough to make time again this summer to bring us up to speed on all things Ross, including new developments in the past year and plans for the year ahead.
Clear Admit: What's the single most exciting development, change or event happening at Ross this coming year?
Soojin Kwon: Our new dean, Alison Davis-Blake, will be sharing the school's strategic plan at the start of the new academic year. She has been working closely with faculty, alumni, administrators and students to assess the school's strengths and identify opportunities to pursue in the coming years. While the details are still in development, the broad areas that the strategy will encompass include innovations in our action learning portfolio, globalization and entrepreneurship.
CA: What is the one area of your program that you wish applicants knew more about?
SK: The wealth of opportunities for Ross students to engage with and learn from students and faculty at Michigan's other highly ranked graduate programs – from education, public policy, law and public health to engineering, natural resources and medicine. Students can take electives at any of the other schools on campus or pursue a dual degree. Similar to the diversity of opportunities on-campus, we also attract an extremely diverse student body; we have a large number of students who come from and go into nontraditional fields. Collaborating with these students, whose perspectives and approaches to problem-solving and opportunity-sensing are very different from "traditional business" students, creates an innovative mindset. When applicants look at schools' employment statistics, what is not as visible are the inputs and goals – i.e., where did students come from and what do they aspire to go into? Our employment outcomes reflect the wide range of careers that our students came from and the wide range of careers that they choose to go into after graduation.
CA: Walk us through the life of an application in your office from an operational standpoint. What happens between the time an applicant clicks "submit" and the time the committee offers a final decision (e.g. how many "reads" does it get, how long is each "read," who reads it, does the committee convene to discuss it as a group, etc.).
SK: When we first receive an application, we evaluate an applicant's academic record (i.e., undergraduate GPA, institution, major; GMAT/GRE score; and, for non-native English speakers, the TOEFL/IELTS score) and an applicant's professional experience. The rationale for assessing these two elements first is that we want to have a relatively high degree of confidence that the applicant can be academically successful in our rigorous program and will have knowledge and experience to contribute to class discussions and team projects.
All applications are moved on for a second, more comprehensive review which considers all of the elements of the application – work experience, transcripts, test scores, essays and recommendations. Some applicants will be invited to interview prior to the completion of the second read. Others will be invited to interview after the second read is complete. Yet others will move on to a review by an associate director without an interview.
Interview invitations are extended in batches rather than on a rolling basis to alleviate the stress of waiting for an invitation to come "any day" between application submission and decision notification. We have had two to three batches per round since we started this process. I try to announce the interview notification dates in advance, once we know what the volume looks like.
The timing of an interview invitation (first batch or later) isn't an indicator of an applicant's likelihood of admission. In other words, an applicant invited in the first batch doesn't have a "higher chance" of being admitted.
Next, the whole file, including the interview report, is evaluated by our associate directors, who make preliminary decisions on each candidate. All decisions are then reviewed by the senior associate director, then the admissions director, and finally, the associate dean for graduate programs.
CA: How does your team approach the essay portion of the application specifically? What are you looking for as you read the essays? Are there common mistakes that applicants should try to avoid? One key thing they should keep in mind as they sit down to write them?
SK: We look to the essays to gain insight into applicants' goals and aspirations and their fit with Ross. We're looking for a written "portrait" of a candidate. We want know how applicants think, how they make decisions, what they value and, of course, how they communicate. We consider the content, clarity and tone of each essay.
Successful candidates answer the questions we ask, not the questions they are prepared to answer. Quality essays also speak specifically to Ross – it's usually pretty obvious when an applicant has written an essay for another application and is trying to shoehorn it into our essay questions. Just saying "MAP" and "Action-Based Learning" doesn't demonstrate a meaningful understanding of Ross.
I would tell applicants not to worry so much about "How can I make myself stand out among the thousands of applicants out there?" By virtue of having had a unique path – personally, academically and professionally – it is impossible for two applicants to have the same stories. The differentiation will happen naturally if you focus on your story rather than trying to "package" yourself. Don't strive to portray yourself as the "ideal" business school candidate, because there is no "ideal." We're looking to create a diverse student body with students who have a broad range of interests, goals and experiences.
In the last couple years, we have decreased the weight of essays in our overall evaluation. We have found that many essays are formulaic and don't give us enough meaningful insight into candidates to gauge their fit. Instead, we have placed more weight on interviews. Since verbal/interpersonal communication skills are critical in our curriculum as well as in the recruiting process, we have found an interview to be a better gauge of a student's fit and potential to succeed at Ross than the essays. That said, if an applicant's essays aren't solid, it could impact an applicant's chances to be invited for an interview.
The first essay (introduce yourself in 100 words or less) is my favorite one to read as it gives applicants the most latitude to share something truly unique about themselves. As I go through my final reviews, I find myself turning to this one most often as it gives me a quick snapshot of what an applicant wants me to know about him/her.
The thing to keep in mind as applicants write their essays is to do a lot of introspection – think deeply about where you've been, why you made the choices you did, what you learned from the experiences you've had and how all that has influenced where you now want to go. We love learning about applicants' journeys and how they became who they are today.