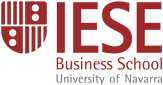 Itziar de Ros is MBA admissions director and president of the MBA Admissions Committee at IESE in Barcelona, Spain, where she herself obtained an MBA in 2006. After working as a marketing and sales consultant at DuPont, de Ros returned to IESE in 2007, holding roles in admissions, marketing and communications and development before assuming her current role in 2011. As MBA admissions director, she is responsible for global marketing, student selection and administration of scholarships for the IESE MBA class of 280 students.
In the interview that follows, de Ros shares details about the expansion of the school's international elective courses to include offerings in China and Kenya for the first time this year (in addition to the United States, Brazil and Singapore). She also highlights the school's focus on entrepreneurship and the benefits of the school's remarkably international approach to management education.
Finally, you won't want to miss her comprehensive description of the application process – including the unique in-person assessment day, which includes team case work and presentations by applicants working together in groups.
Clear Admit: What's the single most exciting development, change or event happening at IESE this coming year?
Itziar de Ros: As always, many new things will be happening at IESE next year, but I think probably the most exciting development is the expansion of our popular international elective courses. At IESE, second-year students can opt to study some electives in another country (this is in addition to our International Exchange program), and this coming year we will be offering electives from China and Kenya for the first time. It means our MBA students can choose to study part of their MBA in five cities across the globe – New York, Sao Paulo, Shanghai, Singapore and Nairobi – enabling them to tap into IESE´s extensive presence throughout the United States, Latin America, Asia and Africa.
What I think makes the courses particularly appealing is that students do not just get a superficial look at the business culture of another country; they get a truly in-depth experience and a fantastic chance to enhance their global networks. All the international electives are designed to take advantage of the locations they are taught from: Classes involve extensive input and practical insights from local business communities, as well as offering participants a variety of networking and recruitment events with top companies. For example, in New York we offer electives focusing on subjects such as Wall Street and the growth of internet technology strategies; in Sao Paulo, topics focus around conducting business in the important emerging economies of Latin America. In Nairobi, students will explore the challenges and opportunities for businesses in a developing economy. For instance, one elective will focus on how to do business in Africa and will be taught via 'action learning,' which involves participants working closely with local Kenyan companies. The corporate social responsibility aspect to developing sustainable businesses is also an extremely important part of the electives (and is an ethos central to all of IESE´s programs). In Singapore and Shanghai, students study topics relating to China's position on the economic stage as well as partaking in a variety of dedicated career service activities.
Furthermore, students can mix their electives (for example taking two electives in NYC for the first week and two electives in Sao Paulo for the second week) so they can further take advantage of the global reach of IESE.
MBA students have global career aspirations, and an important part of the electives is ensuring participants get the chance not only to gain a strong grounding in the business environment of the country they studied in, but also to be exposed to and work closely with the local business community. For all the electives we schedule numerous networking events, careers and recruitment activities with top companies, alumni and local businesses.
CA: What is the one area of your program that you wish applicants knew more about?
IDR: I think our work in entrepreneurship is truly exceptional, but often people are unaware when they first join us just how extensive the opportunities and support available to them at IESE is (although they soon find out once they start!). We have everything from investment funds to training and advice, as well as numerous activities and networking events.
For example, our investment fund (FINAVES) is set up solely to promote and support the new business initiatives of IESE students and alumni. Since its founding in 2000 it has helped nearly 50 IESE student entrepreneurs realize their projects, and it has invested more than 9 million euros that has today produced more than 70 million per year in terms of turnover. Some world leading companies got their start from the fund.
As well as the investment fund, our Entrepreneurship & Innovation Center (EIC) helps train entrepreneurs and offers invaluable support and advice. Conferences and forums are frequently organized – such as the European Growth Summit: a Network of the 500 fastest growing companies in Europe which is used to share information about challenges and best practices, as well as promoting common policies for companies that drive the European economy.
We also offer regular events such as ¨Breakfast with an entrepreneur," where an entrepreneur shares their experiences and lessons with MBA students, and the "MBA Entrepreneurs Open Day" for candidates seeking to launch their own business ventures, which includes panel sessions and entrepreneurship activities.
Our MBA students also organize various clubs and activities. For instance, the Entrepreneurs' Club organizes a series of events for students to network with successful entrepreneurs and learn from their experiences. The club also works closely with different organizations in Barcelona to help students meet entrepreneurs and foster future collaborations between them.
This is just a small taste of what we offer at IESE. I believe budding entrepreneurs will never have a better chance to get support, training and networks then when they are at business school, so it is important for students to take advantage of the opportunities available to them.
As well as this, I think people sometimes do not realize how truly international and diverse an experience studying at IESE is: 80 percent of our students are international, and they represent over 50 nationalities. In addition, students study a North American style two-year MBA program (which is unusual in Europe), while being exposed to the variety of different cultures and perspectives that a European learning experience can bring. Students can also study part of the MBA in the United States, Brazil, China and Africa – and draw upon our networks and expertise in these countries. Furthermore, as one of the world's most useful languages, the opportunity to learn Spanish to a high level can really enhance students´ career aspirations, especially bearing in mind the increasing importance of Latin American emerging economies.
CA: Walk us through the life of an application in your office from an operational standpoint. What happens between the time an applicant clicks 'submit' and the time the committee offers a final decision (e.g. how many "reads" does it get, how long is each "read," who reads it, does the committee convene to discuss it as a group, etc.)
IDR: From an operational point of view, the application process is a long one. Every year we receive around 26,000 information requests and organize more than 100 events around the world. IESE's mission is to offer a personalized approach, so we offer all our applicants help through their admissions process even before they hit the submit button…
Firstly, candidates will either request an informational interview or we give them feedback (based on their profile and the information they have given us) and advise them whether or not to apply. At this very early stage in the process we are acting as consultants: If we feel our program is not the right fit for you, we will let you know and even recommend other programs that better suit your career goals.
Once an application is submitted it goes through a first read which lasts around half an hour or so (with the application being re-read and reviewed before each subsequent stage in the interview process). Candidates can submit their application even if their GMAT score is missing, although no decision will be made until the application is complete.
Candidates who succeed from the pre-committee stage are then invited to a one-hour interview. This interview is always conducted by a highly trained member of the Admissions team who is also an alumnus of the school. Interviewers are always part of the Admissions Committee so they do affect the decision.
During the interview we cover all aspects of an applicant´s life – yes, we will go through the application itself but also beyond it to find out who they really are as an individual. We want to learn about their accomplishments and, most importantly, their fit with IESE's MBA. One of the mistakes candidates make is concentrating too much on only their professional and academic experience, when there is often something interesting about what they did when they were 17 or what they do after work. In the interview, we make sure these kinds of experiences are covered.
Once candidates have passed the interview stage they are invited to an Assessment Day. Attendance is not mandatory but it is highly recommended. Assessments are conducted all around the world to give candidates the best chance to attend one close to their country. (Last year we organized them in places like New York, Sao Paulo, Singapore, New Delhi and Barcelona.)
We also usually organize an Open Day before the Assessment Day so people have an opportunity to familiarize themselves with our campus, experience the case method and get to know other applicants, current students and alumni.
On the assessment day itself we gather a small group of people and work with them for the day; dividing people into groups of around 30 to 35 per room (in larger rooms two groups will run consecutively). We then put them into teams and give them small cases to work on. They have to conduct presentations, take questions from the audience and we also have lunch with them. It's a fantastic way for us to get to know them better and explore how they communicate, as well as their ability to work in teams. For them, it's a great opportunity to understand the business school better and the environment at IESE.
After the Assessment day the application is completed and goes to the Admissions Committee. For the candidates that have made the effort to come to the Assessment we try to let them know the outcome by the week after the assessment.
CA: How does your team approach the essay portion of the application specifically? What are you looking for as you read the essays? Are there common mistakes that applicants should try to avoid? One key thing they should keep in mind as they sit down to write them?
IDR: The essay portion of the application process is really our introduction to a student: who is this person, how are they different, what value will they add to the school? These are the questions we want the essays to answer. The essays are the best opportunity for candidates to excel from the rest of the applicant pool – and we read them very carefully, so they should be written carefully too.
The writer's strategy should firstly be to think about those who are reading their essays. We read hundreds of essays and some are just carbon copies of each other. After reading so many applications, you can really tell if a candidate has thought sincerely about his or her answers, or if they are just using the same essay from another application. The special ones make you feel as if you are right in front of that person and having a conversation; they make you say "I want to meet this person." There is limited space, so candidates must use the essays wisely to show what they can offer the school. Fundamentally, they should approach it as if they are selling a product – what sets you apart from others?
A common mistake is for people to copy and paste their essay from other applications and forget to change the name of the school. Obviously, we understand that candidates apply to more than one business school, but this carelessness to review the essays does show a lack of interest that we take into account.
A good tip is for candidates to not get too bogged down detailing every single aspect of their lives and experiences like it is a checklist – as I said before, we want to know what really makes them unique and, importantly, what value they can add to our program. When we finish reading the essay we should have a clear idea about who you are, your skills and what you can contribute.