Hello and welcome to Fridays From The Frontline, Clear Admit's weekly blog posting focused on the ups and downs of the b-school blogging world. While last week was rather quiet on the applicant front and far more busy as far as student postings, this week saw a resurgence of applicants checking in to share their campus visits or their preparations for transitioning to student status. On the heels of our recent BoB nominees announcement, we're glad to see a few of our nominees in the mix.
HammO expanded on his last post, which focused on financing the MBA. Sassafrass thoroughly enjoyed meeting up with future classmates and getting even more of a sense of what it means to be a Yale SOM student during a weekend visit to New Haven. The Poetic Quant outlined his plans to address concerns the adcom might have about his undergraduate GPA, which included enrolling in summer courses. Unclearadmit discussed the possibility of his MBA being sponsored, had his last day at work, improved his golf swing, and praised the Tuck approach to international loans. PPandey visited the HBS campus and sat in on a class, praised the student who led his campus tour, and valued certain insights he gained from attending an information session.

Fuqua '14 Bee-Lian enjoyed organizing a professor/student dance event in the vein of "Dancing With The Stars." Chicago Booth '14 Cheetarah explained the reasoning process that led to her taking a summer internship at Google over a job that might, at least at first, seem like a better fit for her overall goals. LBS '14 James reflected on "bridging the cultural divide" in preparation for attending the school's Global leadership Summit.
LBS '13 Maggie described the realities of her third term experience, which was not quite at the relaxed pace she initially expected. INSEAD '13 Shereen knew she meant to write more in the last few months, but explained that she got caught up in all the school's recruiting activities.
And that's a wrap for this week's Fridays From The Frontline. Make sure to  cast your vote for the bloggers you most enjoy following, or feel free to tweet your vote to us at @clearadmit, with the hashtag #ClearAdmitBoB. Until next week, have a wonderful weekend!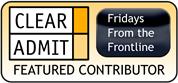 Want to join the Fridays From the Frontline community and see your blog featured regularly in this column? Just follow this link and add the FFF badge to your blog and then  email us at [email protected] with your URL so we can make sure to add you to our weekly roundups.