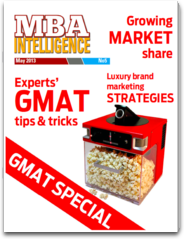 If you've been scanning Apple's newsstand recently, a new title may have caught your eye. MBA Intelligence is an online magazine for current and prospective MBA students that debuted in December 2012. Currently available on the iPad, the new publication has been attracting most of its readers from the United States, the United Kingdom, China and other parts of Asia, according to publisher Redwood Apps.
The magazine features a mix of content, ranging from pieces geared toward prospective applicants on topics like preparing for the GMAT to articles written by current MBA students showcasing the analysis they have performed around current companies and issues as part of their work in actual business school classes.
Obviously, the student-authored pieces can also serve as a resource for prospective MBA applicants seeking a preview of the kind of projects they may become involved in once they enter an MBA program. And for current MBAs, the opportunity to publish work that prospective employers could read makes the online magazine especially appealing.
Since the debut issue late last year, MBA Intelligence has published monthly, with each new issue tackling a different theme. May's issue was a GMAT special edition, with articles from GMAT test prep firms Manhattan Elite Prep and Kaplan Test Prep filled with tips and techniques for prospective MBA applicants on how to ace the all-important business school entrance exam.
Other articles in the May issue were written by current students from Cass Business School in London. In one, a group of Executive MBA students set out to define a strategy for market share growth for online grocer Ocado, putting into practice precisely the skills and expertise they are developing as part of their Strategy course at Cass. A second article, written by a full-time 2013 MBA candidate at Cass, takes a deep dive into luxury brand marketing strategies, providing a thoughtful analysis of Aston Martin, the luxury car brand, which is now celebrating its centennial year. Topics here include Aston Martin's successes and challenges as they relate to connecting with the customer, brand building, delivering value and creating long-term growth.
If you're wondering whether the new publication is worth its $1.99 online newsstand price, you can decide for yourself by perusing MBA Intelligence's debut issue, available for free here. As you'll see in the December issue, Cass MBAs figured prominently again, as they did in the most recent May 2013 issue. Here, student articles touched on topics ranging from the importance of business strategy during market entry and early growth to an analysis of how luxury brand Jimmy Choo has taken an integrated marketing approach — relying on social media, celebrity endorsements and product placement, along with more traditional print and in store marketing — to maximize brand recognition.
Overall, we found the publication interesting and well-crafted. For prospective applicants, we think it's worth a gander both for the content specifically linked to the application process as well as for the preview the magazine provides of exactly the kind of work students can expect to encounter once they enroll in an MBA program.
We'll look forward in future issues to seeing articles from MBA students representing a wider range of programs both in the United Kingdom and beyond. We also hope the publication will eventually be delivered on devices in addition to the iPad. Even until then, at $1.99 an issue, it seems like a bargain. But take note, your subscription will automatically renew unless auto-renew is turned off within a designated time period, so read the fine print.