Hello and welcome to this week's Fridays From The Frontline, Clear Admit's weekly blog post featuring the latest news and events of the b-school blogosphere. This week applicants continued preparing for their applications or their upcoming orientations while students shared different facets of their lives on campus. 
HammO began revising his resume while he awaited more updates from his target schools. MBAOver30 described the values and impact of attending the DMAC Diversity Conference. MBAGirlJourney asked her readers what they thought of Harvard's new approach to an application essay. Sassafrass celebrated his one year "GMAT Anniversary" and began focusing on the funding issues of his MBA.

Chicago Booth '14 Cheetarah felt the glory of her BoB victory and expressed gratitude to her readers and fellow bloggers. LBS '14 Diane highlighted two very different competitions that took place on campus in the last few weeks. Anderson '15 Dwight was excited about summer and his upcoming internship, but he was also glad to enjoy a tasty pizza and cold gelato. McCombs '14 Cindy shared an interview that highlighted the experience of her husband as an MBA student's spouse.
LBS '13 James attended the school's annual Global Leadership Summit and reflected on the importance of honesty in leaders, whether in politics or business.
And that's the news for this week. With many students done with their studies, Clear Admit is looking forward to hearing about their internship experiences in the coming weeks. Until next weekend, have a wonderful weekend!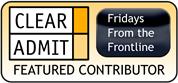 Want to join the Fridays From the Frontline community and see your blog featured regularly in this column? Just follow this link and add the FFF badge to your blog and then  email us at [email protected] with your URL so we can make sure to add you to our weekly roundups.