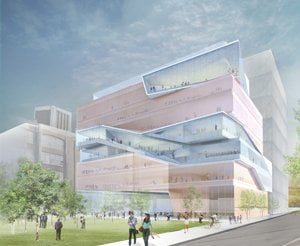 Two 1967 graduates of Columbia Business School (CBS) have pledged a combined $40 million toward the school's new Manhattanville facilities, the school announced this afternoon. Alumni Arthur J. Samberg and Mario J. Gabelli, both members of the school's Board of Overseers, have pledged $25 million and $15 million, respectively, citing their desire to help provide others with the educational opportunities they had. Their gifts continue a trend of multi-million dollar pledges to support construction of the school's new facilities.
Samberg, who is the manager of Hawkes Financial Services LLC and a member of Acadia Woods Partners LLC, and Gabelli, who is chairman and chief executive officer of GAMCO Investors Inc., both credit their success to the education they received at CBS. Through their gifts they hope to support the completion of the school's new facilities and, in so doing, expand the opportunities available to future students.
"I had the good fortune to attend a number of elite schools, but many people don't have the advantages I had," Samberg said in a statement. "In supporting Columbia Business School, I'm helping others, who didn't grow up in the same environment, get a chance to advance."
Gabelli noted that his own parents didn't have a formal education and that it was his great education that allowed him to succeed. "In order to provide that type of education, schools need great facilities," he said in a statement. "Columbia Business School is at a critical point in moving to Manhattanville, and I figured I'd help as much as I could to push it over the goal line."
The new Manhattanville facilities will include buildings designed by Diller Scofidio + Renfro and FXFowle Architects to foster a sense of community and collaboration, reflecting the highly social character of business in the 21st century. Encompassing more than 450,000 square feet, they will feature multifunctional spaces where students, faculty, alumni and practitioners can come together to share ideas.
The Manhattanville buildings will be called the Ronald O. Perelman Center for Business Innovation and the Henry R. Kravis Building, named in honor of two other CBS alumni who each pledged $100 million toward the new campus.
Learn more about Samberg and Gabelli's $40 million gift to support CBS's Manhattanville campus.