Hello and welcome to Fridays From The Frontlines, Clear Admit's weekly perusal of the best of b-school blogging. This week applicants were a busy bunch with one large deadline in the forefront of many of their minds. Current students were adjusting to campus life.
BSchool Admit introduced his fellow applicant bloggers to the world. Domotron submitted his HBS application and shifted his focus to his Wharton and HBS applications. ExpectingMBAMILF pondered whether there is a true gender gap in MBA programs. Sanket was in love with the MBA application process. Sarah reviewed the Economist's GMAT prep software. TimBob  vacationed in France and shared a humorous chart of the process one goes through to complete an application.
McCombs '15 Raj was three weeks into his MBA experience and didn't regret it a bit. Anderson '15 Daniel  introduced his fellow first year bloggers to the world. Booth '15 Pru celebrated the anniversary of her initial 'crash and burn' R1 applications. HBS '145 2YHBS found himself very busy and discussing the required curriculum.
Cambridge '14 Laurent told the story of how he got to work with the founder of Infosys. Tepper '14 CCatcher took it easy and had a light to-do calendar, but knew that would change next week. McCombs '14 Chirali concluded her internship and expounded on the beauty of the U.S. National Parks in the west.
And that's a wrap for this week's Fridays From The Frontline. We hope applicants stay on track as R1 deadlines speedily make their way to the present and that current students continue to enjoy their classes and new friends. Until next week, have a great weekend!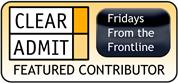 Want to join the Fridays From the Frontline community and see your blog featured regularly in this column? Just follow this link and add the FFF badge to your blog and then  email us at [email protected] with your URL so we can make sure to add you to our weekly roundups.