In this edition of Fridays from the Frontline, a Dartmouth Tuck MBA student, George Agyeman-Badu T'23, takes us inside the Africa Business Conference, which was hosted by the Columbia Business School Africa Club.
Meeting the Moment: Inside the 2022 Africa Business Conference
The only purpose of a woman's tongue is to taste her food.
Why speak when your food will speak for you.
Women are not allowed a seat at the table.
Because they are the ones serving it.
My mother makes the best food I know though.
Probably because it tastes like everything she's lost.
This is an excerpt from a poem about sexism in Sudanese culture, entitled Arusa (Bride) and delivered by Baya, a Washington DC based Sudanese poet and activist. The essence of the poem is that Baya's mom did not teach Baya how to cook as a lesson that Baya's value as a person does not lie in her culinary skills, with her mom serving as an example of a woman whose identity and significance were reduced to her culinary skills only to serve a man in a sexist culture and to lose out on other joys in life as a result. That is how the first day of a two-day Africa Business Conference thoughtfully organized and perfectly executed by the Columbia Business School Africa Club ended.
The first day saw Fred Swaniker, a Ghanaian serial entrepreneur and leadership development expert, and Kuseni Dlamini, chairman for Aspen Pharmacare Holdings Ltd., kick off the ceremony held at the Columbia Business School campus in New York City. Programming for the rest of day one included African food for lunch and several panels. One such panel, Harnessing Innovative Health for Africa, discussed the kinds of innovation, necessary stakeholders, and regulatory changes needed for health care in the African market. Another panel, Expanding the Conversation of Beauty, discussed the evolution of beauty standards, transformation of the beauty industry, especially within Africa, and how the intersection of the beauty industry and social media impacts the definition of beauty in the African community. Other panels included African Leaders on Wall Street, Examining the Role of Heritage & Culture in Socioeconomic Progress and Development, and the African Influenced Aesthetic. The day ended with a keynote by Alexander Cummings, Founder and Chairman of Cummings Investments Holdings, a showcase of colorful African fashion, and lastly Baya's moving poem.
The Future of the Pan-African Dream panel kicked off day two with a strong start. The panel discussed the vision of Ghana's own Kwame Nkrumah—who led the then Britain colony to independence, the first in Africa—to free and unite all African states against neocolonial exploitation and how the vision is coming together in the midst of economic, political, and linguistic challenges. Samia Nkrumah, the only daughter of Kwame Nkrumah, Ghana's first President, was in attendance together with Uzodinma Iweala, Phiwokuhle Mnyandu, and others. The day showcased authentic Ghanaian food for lunch and an African Cultural Gallery. Other panels included Engineering a Better Africa, Investing in Africa, and The Role of Music in Africa's Global Relevance. The final Keynote was given by Dr. Vera Songwe, chair of the Liquidity and Sustainability Facility for the UN Economic Commission for Africa, who left us with three thoughts: 1. Africa has a liquidity problem; not a debt problem; 2. Raw materials need to be processed before being exported; 3. There's a lot of evidence of what's not working, but little effort on working out what to do moving forward and that has to change. The event concluded with a closing ceremony and a night party.
At the end of the conference, I had a couple of personal takeaways. First is that it is important for African narratives to be told by Africans for the world and Africans alike to fully grasp the nuances and differences of thought that exists in the continent, stemming from the high degree of diversity on the continent and influencing progress towards finding unanimous lasting solutions to its problems. And second is that as discussed in the Future of the Pan-African Dream panel and a separate independent fireside chat held with Hakeem Belo-Osagie, a Harvard professor and chair of Metis Capital Partners, during Harvard Business School's Africa Business Conference last Spring (2022), thought leaders are divided on whether capitalism is adequately serving the continent and wonder if a different or modified economic ideology might be a better fuel for faster and more sustainable economic development. I will be curiously following this discussion.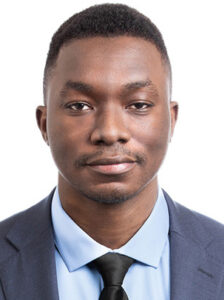 George Agyeman-Badu is a T'23 and current cochair of the Tuck Africa Club with Annette Jatto and Prosper Mangwiro as fellow cochairs. He is a proud Ghanaian and loves to share his culture and explore other cultures. He interned at BofA Securities in the New York City health care investment banking group and will be joining the group full-time in the summer of 2023.
The Tuck Africa Club is a student-run and student-led club with three main goals: 1) increase the presence of Africa on the Tuck campus by educating the Tuck community on the diverse heritage, cultures, and investment opportunities on the continent; 2) create a safe and warm space for students with a strong affinity to Africa to commune with themselves and/or with other affinity groups; and lastly, 3) engage with prospective students from Africa.