Hello and welcome to Fridays From The Frontline, Clear Admit's persistent perusal of the MBA blogosphere. This week was a prolific one for applicants, as they generally reported interview invitations from a range of R1 schools. Students were a far quieter bunch, perhaps busy dealing with exams or planning their Halloween costumes?
Sarah was determined to raise her GMAT study prep to the next level while her Fulbright application continued on track. TimBob considered how to prepare for his upcoming HBS interview while also waiting to hear from Wharton. Domotron rode the roller coaster of hearing back from R1 schools, which included a high of receiving a Wharton interview, and a low in the form of an HBS rejection. HammO discussed the costs of applying to six schools in the first round before celebrating his Ross interview invitation. MBAMilf  happily announced that she and her family would be welcoming a new daughter to their brood. MBAGirlJourney also described the emotional ups and downs of waiting to hear from HBS and CBS, ultimately reporting an interview invite from CBS and a deferred admission decision from HBS. MBA the Nonprofit Way also had good news: an interview invitation from Yale. Writing in Transit visited NYU Stern, which included a campus tour, an information session and a corporate presentation.
McCombs '15 Raven found that her MBA midterms stretched her perfectionism.

Kellogg '14 Thaleya recounted some of the global experiences she enjoyed while attending b-school. McCombs '14 Shelby compared her first year to her second and reached a few conclusions.
And that's the news for this week's edition of Fridays From The Frontline. We hope additional 'treats' come to those still waiting to hear the outcome of their first round schools, and that students continue to enjoy their studies. Until next week, have a great weekend!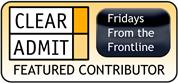 Want to join the Fridays From the Frontline community and see your blog featured regularly in this column? Just follow this link and add the FFF badge to your blog and then  email us at [email protected] with your URL so we can make sure to add you to our weekly roundups.