Hello and welcome to Fridays From the Frontline, Clear Admit's weekly blog post focusing on the frights and triumphs of the b-school admissions and student experience. This week found applicants reporting even more news from their R1 schools, both positive and negative. 
Poetic Quant didn't have to wait long to learn his LBS fate, which was a place on the waitlist. Expecting MBA received a Stanford acceptance and knew that she and her family would be heading west, but planned on waiting to make a decision until after her Haas interview and hearing back from Anderson. With no news of his own, Domotron's latest post simply congratulated other bloggers on their latest MBA news. TimBob also received positive news from HBS, but planned on completing his MIT LGO application because it was the one school that might take precedence over Harvard. Sarah discussed some of the challenges she faced in scheduling a GMAT in a foreign country when also asking for additional accommodations for her dyslexia. HammO advised friends and family of MBA applicants not to call them during the 24 – 48 hour period when they were expecting school news … and got a Johnson admit! MBA The Nonprofit Way described the anxiety and feeling of not being in control that comes with a waitlist notification, which she experienced firsthand when hearing from Yale. FromGMATtoMBA reported two zaps from Wharton and Columbia respectively.

Said '15 Jennifer listed eight lessons that Oxford taught her. Manchester '15 reported a second place finish for the second year running in the RSM Private Equity Conference.  LBS '14 Gonzalo considered his goals, which included working in Asia. HBS '15 Keima attended the school's annual Holidazzle event, which included dinner and dancing.
Fuqua '14 Matt took a moment to reflect on and share his summer internship and life experiences. Anderson '14 Emily gave blind wine tasting a try through the school's wine club. INSEAD '14 Mira described her time at INSEAD as an exciting "emotional roller coaster" ride.
And that's the news for this week's installment of Fridays From the Frontline. We hope that as the cold weather continues in the northern hemisphere (and summer begins for those in the southern) that all applicants continue to hear more good news than bad, and that current students stay focused in the weeks leading up to the end of their semesters, terms or quarters. Until next week, have a great weekend!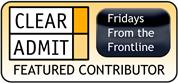 Want to join the Fridays From the Frontline community and see your blog featured regularly in this column? Just follow this link and add the FFF badge to your blog and then  email us at [email protected] with your URL so we can make sure to add you to our weekly roundups.