Hello and welcome to another edition of Fridays From The Frontline, Clear Admit's ongoing dive into the depths of the b-school blogopshere. This was an especially lean week for b-school students checking in, perhaps due to the recent holiday or the winter break.
Sarah shared her ideas and approach to making sure that she keeps her sanity while working on a big project. Domotron sadly reported receiving a zap from Booth, but still held out hope for his Tuck application. HammO decided where he would be attending b-school after having a mixed week of notifications from Tuck, Ross, Darden and Fuqua. MBA The Nonprofit Way fared quite well after hearing from Anderson; she was accepted with quite a hefty scholarship!
INSEAD '14D Maria pondered physical and figurative borders. LBS '14 Joan went on a technology trek to Dublin.
Anderson '14 Kyle reflected on being 2/3 complete with his MBA education and listed a number of different important connections he made and teams he had joined.
And that's all the news for this week. We hope that current students enjoy their time off and that all R2 applicants are keeping calm and carrying on in the face the quickly arriving January deadlines. Until next week, have a wonderful weekend!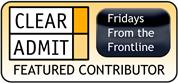 Want to join the Fridays From the Frontline community and see your blog featured regularly in this column? Just follow this link and add the FFF badge to your blog and then  email us at [email protected] with your URL so we can make sure to add you to our weekly roundups.