Hello and welcome to Fridays From The Frontline, Clear Admit's perpetual peek into the persevering lives of b-school applicants and students. This week was certainly a busy one for those applying in the second round, and quite a cold one for those in much of the U.S.
Amit discussed how he raised his GMAT score from 680 to 770 in six weeks. Sarah successfully submitted her HBS and Fuqua applications. MBA The Nonprofit Way wrapped up her applications and conducted a status report on the various schools she was hoping to hear from in the coming weeks. MBAGirlJourney continued her series considering the various costs and scholarship options to those pursuing an MBA. ExpectingMBA finished her last day of work and ruminated on the strangeness of speaking English in an interview with someone who speaks the same native language (which is not English).
INSEAD '14D Maria had great and "EPIC" expectations for 2014. McCombs '15 Jon completed his first semester and looked forward to new challenges. INSEAD '14D Maria explained why she decided not to take the Business Foundation Case, though she was quick to point out that others could still get much value out of it.
McCombs '14 Chirali found himself in Calfornia and enjoying his time off from school. INSEAD '14J Louise looked back at all the daring experiences she had enjoyed over the last few months.
And that's the news for this week. For those in the northern hemisphere we hope you're staying warm while wishing cool breezes on those in the south. Until next week, have a great weekend!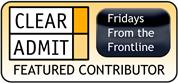 Want to join the Fridays From the Frontline community and see your blog featured regularly in this column? Just follow this link and add the FFF badge to your blog and then  email us at [email protected] with your URL so we can make sure to add you to our weekly roundups.