Fridays from the Frontline
Hello and welcome to Fridays From The Frontline, Clear Admit's weekly post that features the ups and downs of the b-school blogosphere.
As much of the United States continues to battle winter, admissions candidates took some time to reflect after the busy time of submitting applications, and current students are well launched into the new semester  and already preparing for interviews.
MBAMyWay discusses a positive interview at Johnson despite  the bitter cold in Ithaca.  Round 1 Harvard admit Timbob blogs about getting his finances in order, and meeting his new Boston classmates in preparation for next year. Meanwhile, HBS announced the release of R2 interview invites on Jan 29th, with the second round on Feb 5th.
 PPANDEY87 blogs about fascinating conversations about business during a recent trip to India. TwoYearsatHBS is looking forward to the start of second semester
and the second half of HBS' Required Curriculum.  Jeremy Wilson Kellogg '15 reflects on the importance of carving time away from the office.
And that's all the news for this week's edition of Fridays From The Frontline. As many of us in the US look forward to a slight thaw and promise of spring next week, along with more admissions news, we hope that applicants continue to update us with information about decisions and interview invites, and that current students also update their blogs with the latest from their campus and classroom lives.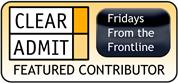 Want to join the Fridays From the Frontline community and see your blog featured regularly in this column? Just follow this link and add the FFF badge to your blog and then  email us at [email protected] with your URL so we can make sure to add you to our weekly roundups.