Hello and welcome to Fridays from the Frontline, Clear Admit's weekly traversal of the b-school  blogosphere. While much of the United States is battling a never-ending winter, our applicants are continuing to get news of interviews and acceptances, while those in school are looking ahead to what comes next, while also trying to stay healthy.
Domontron is ecstatic to have received that all important phone call from Tuck, and will be matriculating there next year. Meanwhile, Sarah'sMBAJourney shares the great news that she's gotten an interview invitation from Duke, MBAMyWay recaps a positive and interesting interview experience with Ross and Timbob finally made it to Boston, and checked out MIT, while in town for an admitted students event at HBS. 
Speaking of Boston, Keima at TwoYearsatHBS talks about the challenge of staying healthy in Boston's 10-20 degree temperature, and the implications of trying to stay focused while battling a head-cold in the participation based Harvard classroom. Ben, LBS '14 sees this final semester flying by, while balancing academics and the approaching job search. Chirali, McCombs '14, is also putting this last semester in perspective, while taking time to enjoy aspects of Austin and the school before the semester comes to an end.
And that's all the news for this week's edition of Fridays From The Frontline. As we all hope for the speedy emergence of spring, we  also hope that applicants continue to update us with information about decisions and interview invites, and that current students also update their blogs with the latest from their campus and classroom lives.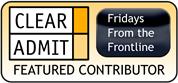 Want to join the Fridays From the Frontline community and see your blog featured regularly  in this column? Just follow thislink and add the FFF badge to your blog and then  email us at [email protected] with your URL so we can make sure to add you to our weekly roundups.