Hello and welcome to Fridays From the Frontline, Clear Admit's weekly summation of the musings of the b-school applicant and student blogosphere.  With most of our 2016 blogging applicants having gone through the R1 or R2 process, this week has been a time to dwell on the experience and give a fuller account of their impressions, whether positive or negative.  Current MBA students have also taken some time to share their impressions of classes, travel experience, or life as an MBA mom.
MBAtheNonprofitWay has continued a streak of good news with an admit to Ross and a waitlist at Fuqua. However, Johnson still remains the best option, out of a successful application process. Nevertheless, MBAtheNonprofitWay takes some time to review the Coulda-Woulda-Shoulda of the experience.  SarahsMBAJourney expands on her impressions of Boston, rating everything from burgers to the HBS Case Method, from her recent journey across the Pond to the USA.  WritingInTransit took some time away from the blog after realizing he would not be attending business school in 2016. However, his professional life has taken an exciting turn, and he's re-evaluating the importance of an MBA for his career goals after all.
Eric Nakano Fuqua '15 took some time to outline his international experiences as a Fuqua student, both in the classroom and interning abroad.  Also on the Fuqua student blog, Trevor McKinnon Fuqua '15 describes his time with the COLE Leadership Cohort Experience. Shelby Chin, McCombs '14 also discusses her study abroad time in Switzerland, which is drawing to a close.  Mitch Colgan, Kellogg '14 shares his favorite Kellogg course, and the importance of Customer Analytics.
Finally, as if being a full-time MBA student wasn't enough, Erin Nilon, UNC Kenan-Flagler '14 discusses the challenges, and rewards of pursuing the MBA, while also being a mother of two young daughters.
And that's all the news for this week's edition of Fridays From The Frontline. As we have finally sprung into Spring, we on the East Coast of the US are looking forward to the sun and warmth that will inevitably (we hope!) follow. We  also hope that applicants continue to update us with information about statuses and decisions, and that current students also update their blogs with the latest from their campus and classroom lives.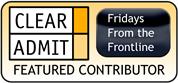 Want to join the Fridays From the Frontline community and see your blog featured regularly in this column? Just follow this link and add the FFF badge to your blog and then  email us at [email protected] with your URL so we can make sure to add you to our weekly roundups.