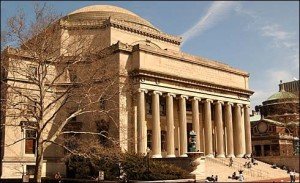 This week in Trivia Tuesday, where we highlight the distinguishing aspects of top business schools, we're opening up the Clear Admit School Guide to Columbia Business School to learn more about Columbia's Master Classes.
"In the fall of 2006, Columbia introduced Master Classes, a new type of elective course. Each Master Class is organized around a theme, such as Operations Consulting or Private Equity & Entrepreneurship in Africa, and incorporates a se­mester-long experiential project. The projects are designed in conjunction with partner companies or organizations and conclude with students making a managerial recommendation to the partner organization. The Master Class program utilizes alumni and practicing professionals as teachers and mentors to ensure that students are exposed to both theory and prac­tice within the MBA curriculum….
"The Master Classes offer valuable chances for students to develop hands-on experience within an aca­demic context. One such Master Class, Private Equity and Entrepreneurship in Africa, gives students the chance to understand the challenges and opportunities faced by entrepreneurs in sub-Saharan Africa. This interdisciplinary course includes students from Columbia's MBA, law and international affairs programs. Stu­dents spend the first seven weeks of the term learning from guest lecturers and case studies about successful and unsuc­cessful entrepreneurs and financiers. Then, over Columbia's two-week winter break, the class travels to an African country to work for a sponsoring private equity firm or entrepreneur. Upon returning to Columbia, the class presents a consulting report, financial analysis or case study for public use."
"Students who are interested in conservation and entrepre­neurship can also take a Master Class in the Business of Sustainability. For this course, MBA and Environmental Engi­neering students help develop business plans that accomplish an objective on behalf of a social enterprise and likely with a focus on clean-tech and alternative energy. Students are divided into teams and serve as consultants for client orga­nizations undertaking business projects with a sustainability component. Past projects have included devising environ­mental impact metrics for a specialty retailer, assessing wind energy potential for the Tribeca Films Institute, and exploring the sustainability of geo-exchange heating and cooling for the Mayor's Office of Long-Term Planning and Sustainability."
To read more about Columbia's program and curriculum, be sure to check out Columbia's School Profile.