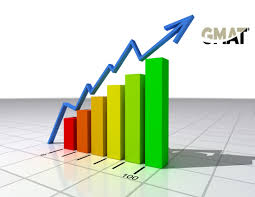 Increasing numbers of prospective business school applicants from Asia-Pacific countries such as India and China are taking the GMAT and outperforming U.S. students on the quantitative portion of the exam, according to a recent article in the Wall Street Journal. As a result, though U.S. students' raw scores have remained consistent over the past several years, their percentile ranking has slipped as more higher-scoring international applicants take the exam.
The lower percentile rankings can seem to suggest that U.S. student aptitude is declining, GMAC CEO Sangeet Chowfla told the Journal. Ten years ago, a raw score of 48 on the quantitative section (for which scores typically range between 0 and 51) would have yielded a ranking in the 86th percentile, whereas today the same raw score places a test-taker in just the 74th percentile.
In fact, U.S. mean raw scores have remained constant for several years at 33 – but this is against increasing numbers of Asia-Pacific students taking the test (44 percent of current GMAT test-takers today, up from  22 percent a year ago) and an increasing mean raw score among those students (rising from 42 to 45 over the last decade).
GMAC's Chowfla notes that some business schools have complained that it has become harder to interpret the test's global rankings, since U.S. students' dropping percentile rankings is not correlated to their declining aptitude. In response, GMAC this fall introduced a new benchmarking tool that lets admissions officers filter scores and percentile rankings by world region, country, gender and college grade-point average, giving the admissions teams the ability to compare applicants against their own cohort.
Sara Neher, assistant dean of MBA admissions at the University of Virginia's Darden School of Business, was one of those who asked GMAC for help. "I need to be able to show my scholarship committee, which includes faculty, that this person is in the top 5 percent of test takers in his region" despite a lower percentile ranking globally, she told the Journal.
There is a clear trend in graduate management education toward creating more global programs, which has led U.S. business schools to increase recruiting in South and East Asia, the Journal article notes. "But schools also don't want to become factories for high-scoring test-takers from abroad," the article states.
This is in great part because the GMAT is far from the only measure of a good business student. Leading business schools are looking for a range of factors beyond academic credentials, with leadership and communication skills playing a prominent role. Many admissions officers believe that these highly valued attributes, better assessed via interviews, provide a clearer indicator of students' ability to contribute to classroom discussion and excel in the corporate recruiting process.
Liz Riley Hargrove, associate dean for admissions at Duke University's Fuqua School of Business, conceded to the Journal that assembling a class that represents the full diversity her team is seeking increasingly means passing over some top GMAT scorers in favor of lower-scoring candidates who bring other strengths.
Read the complete Wall Street Journal article, "On B-School Test, Americans Fail to Measure Up."