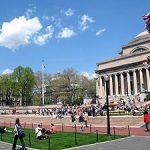 The following is a report from a recent applicant who provided their Columbia EMBA admissions interview questions:
I applied early decision to the EMBA – Saturday program. My interview was on Wednesday and I received an offer for admission the next day. The interview lasted only 30 mins. The atmosphere was formal. I wore a business suit and my interviewer was dressed in business formal as well. There was a third person in the room taking notes. This is not common. I was told that this person is new and will be listening in. I was asked the following questions.

1. Walk me through you resume in your own words.
2. Why did you move from job x to job y?
3. Why an MBA at this time?
4. Why an exec MBA and not a full-time MBA?
5. Why Columbia?
6. Tell me how your team at work is structured.
7. Describe a project you have worked on.
8. How was your experience with the GMAT?
9. Tell me about activity x that you pursued in college.
10. Is there anything else you would like to discuss about your candidacy?
11. Do you have any questions for me?
As you can see, we went through 11 questions in 30 mins so I spent roughly 2-3 minutes per question. There were no surprises. The questions I was asked were very similar to those asked to me by my admissions consultant at Clear Admit during a mock interview. I highly recommend doing a mock interview. It is great preparation for the actual interview and at the very least you are not surprised or stumped by any question that is asked.
For more Columbia MBA and EMBA admissions interview questions, visit our Columbia Interview Archive!