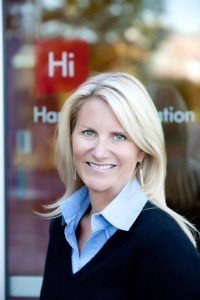 If Harvard Business School (HBS) is in your cross hairs, and if innovation and entrepreneurial pursuits are what rev you up, you may be interested to learn that Harvard's innovation lab will soon have a new commander in chief. Jodi Goldstein, a long-time investor and entrepreneur, will become Harvard i-lab's new Evans Family Foundation Managing Director beginning this June, responsible for leading the university-wide facility that brings students, faculty, alumni and the community together for team-based and other entrepreneurial activities.
Goldstein, who replaces outgoing Managing Director Gordon Jones, is no stranger the i-lab, Indeed, she's been part of its management team since the lab's 2011 launch, coming up with and implementing much of the top programming and resources it's been able to offer. Just last year she spearheaded the Launch Lab, a business incubator for Harvard alumni, which is putting Allston, MA—where the i-lab is located—on the map as a solutions-centered hub swirling with interdisciplinary collaboration.
Goldstein has been a high-tech entrepreneur and investor for the past 15 years, with a focus on innovative consumer technologies. With industry expertise in consumer, e-commerce, mobile, social networking and luxury goods, she's been on the management team of several venture-backed startups including iMarket (sold to D&B), Planetall (sold to Amazon for more than $100M), Send.com, Hoteluxury.com and Mobicious. Most recently, she was a co-founder of Drync, a mobile app for wine (a 2011 MassChallenge winner). She's also an HBS alumna.
"We all can be proud of the i-lab's extraordinary success, beyond what any of us might have imagined when it opened its doors just over four years ago," HBS Dean Nitin Nohria said in a statement. "In this next stage of its development, there is no better choice than Jodi to serve as its leader."
Learn more about the new director of Harvard Business School's i-lab.