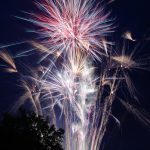 We hope that our U.S. readers had a great 4th of July! Year after year, we've found that in addition to sunburns and food hangovers, many business school hopefuls emerge from the holiday weekend with a heightened sense of urgency around their business school applications.
So, let's keep that momentum going! For a limited time, our partners at Veritas Prep are offering $100 off all in-person GMAT prep courses for readers of Clear Admit. Visit the Veritas site today to find a classroom course in your area and start working toward a winning GMAT score.
Happy test prepping!