With less than a week to go before Harvard Business School (HBS)'s Round 1 deadline, lots of anxious applicants are fretting over how their candidacy will stack up against the competition. Cognizant of this fact, HBS Managing Director of Admissions and Financial Aid Dee Leopold yesterday shared some interesting details about recent incoming classes as food for thought.
On her Direct from the Director Blog, Leopold published a "years from college" histogram, revealing that the mode (the value that appears most often in a data set) is 4 years. "Plenty of incoming students coming before and after, but wanted you to see this," she wrote.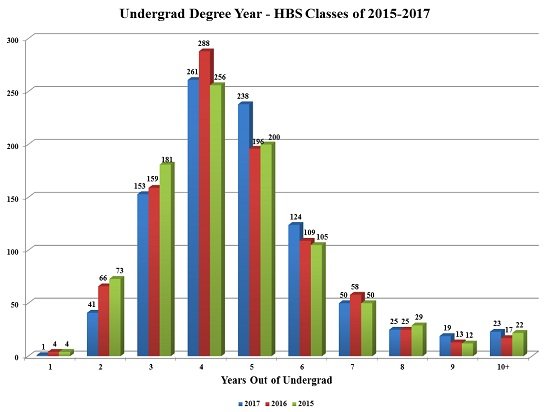 Leopold urged applicants not to see 4 years as a template or a target, though. "You need work experience to be at HBS, but there is no universal 'right time to come,'" she said, drawing attention to the fact that the histogram also reveals that years from college really does vary from year to year.
Another little nugget of information in Leopold's post: Reapplicants—that is, people who didn't get in the first time they applied—make up 94 of this year's incoming class of 937. If at first you don't succeed…