With just a little over a month since MBA DecisionWire debuted, we're delighted that hundreds of applicants have already chosen to submit their admissions stories via this new resource. For the uninitiated, MBA DecisionWire is a crowdsourced companion tool to our hugely popular MBA LiveWire. But distinct from MBA LiveWire, which provides up-to-the-minute insights from applicants at each stage of the admissions process, MBA DecisionWire is designed to capture an applicant's complete journey—reflecting every school applied to, acceptances received and each applicant's ultimate revealing decision of where to actually enroll.
"I was an absolute addict on LiveWire when I just had to know who was hearing what from which schools," shared one site visitor. "But DecisionWire, by virtue of reflecting how people are actually making the final call when faced with some tough choices, has been just as useful to me in a different way."
Indeed, the stories shared via MBA DecisionWire give valuable insight into the challenging decisions applicants face when presented with multiple acceptance offers and the factors that contribute to their decision of where to actually attend business school. Of course, by gathering GMAT and GPA data as well, MBA DecisionWire also lets those just beginning the application process benchmark themselves against those who have come before them.
What Really Matters When Choosing Where to Enroll?
So, what matters most to applicants when it actually comes down to deciding where to enroll? The results are varied. Not surprisingly, pedagogy, school reputation and perceived career opportunities are significant considerations for many. For instance, Wharton's strength in marketing and entrepreneurship—together with its alliance with INSEAD—proved more compelling than the University of Chicago Booth's International MBA (IMBA) program for this applicant with a strong finance background looking to head into general management.


Another applicant from this year applied to dual degree programs at each Fuqua, Ross and Kellogg. "Chose Northwestern's JD-MBA," the candidate shared. "Ultimately, business school ranking and career opportunities were the greatest influencer despite having received very generous scholarship opportunities from Duke and Michigan."
Darden's case method and small class size made it the better choice for this 2014 applicant, who was deciding between Charlottesville and Charlotte after a rejection by NYU Stern.

Show Me the Money
Money, of course, has made a difference in many decision-making processes. Here, Chicago Booth was the clear choice over Dartmouth's Tuck School of Business when the former offered scholarship money and the latter did not.


But when both Wharton and Columbia Business School offered fellowships to this 2016 applicant, Wharton's Winter Welcome Weekend and its strength in leadership made the difference.


Location, Location, Location
Sometimes, though, it really comes down to location. "London is just an amazing city that I'd love to spend 1.5 years living in—not to mention the networking opportunities," wrote an applicant from this year who has enrolled at London Business School, choosing it over Cambridge's Judge School of Business and HEC Paris, which also offered him or her admission.
School X or Bust
Certain applicants, of course, have a single-minded focus on one school and one school only. We love to see them attain their goals:

Finally, even entries that don't offer explanations within the notes section still present the dilemmas applicants have faced when confronted with acceptances at multiple top schools—while also giving prospective applicants useful data points against which to benchmark their own candidacy.

"Super cool tool! I wish this had been around when I was making my decisions about where to go to business school," one early user told us. To be clear, we're excited to receive submissions from applicants just as they are making their decisions as part of this admissions season, but current students and alumni are also invited and encouraged to weigh in. An "Entering Year" field lets you select any of several recent application years, and those who have been out of school for a while can simply indicate "Other."
Quick, Easy and Anonymous
As the data continues to roll in, MBA DecisionWire will help prospective applicants just beginning to process extract valuable data points. As with MBA LiveWire, MBA DecisionWire is completely anonymous and designed to be intuitive and easy to use. Most users tell us that entering a submission takes a minute or less, and the search functions allow for easy filtering of previous entries.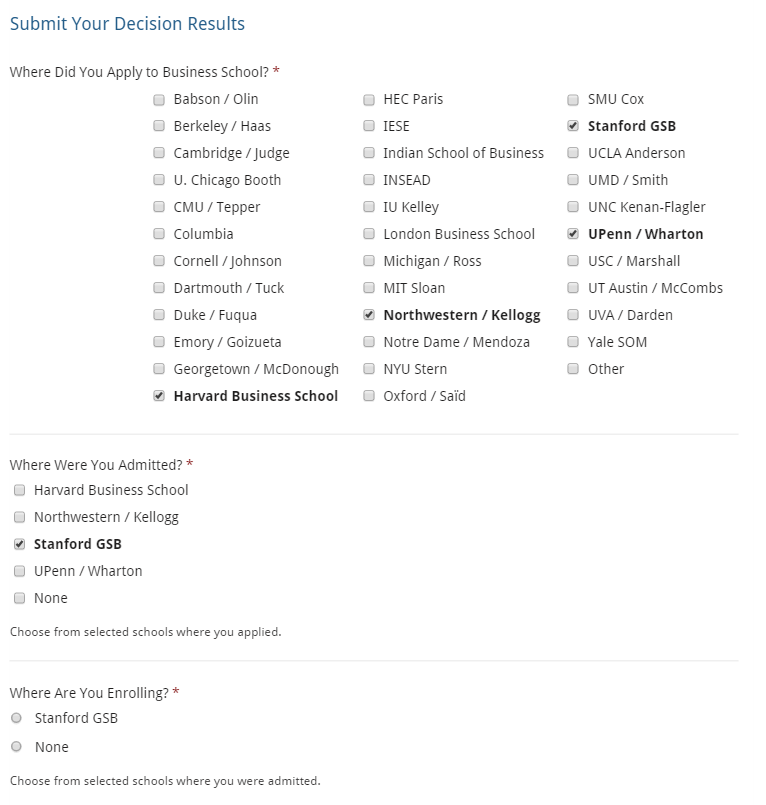 "While most candidates for this year have not yet made their final choices, deposit deadlines for Round 1 are rolling along, so we are hoping that those who are finalizing their decisions will now add their 'story,'" says Clear Admit's Alex Brown, who helped develop the new tool. "We're thrilled at the early response to MBA DecisionWire—thanks to everyone who has already submitted an entry," he adds.
Of course, MBA DecisionWire stands to grow even more interesting and valuable as more submissions roll in. So check it out, share your story and tell your friends and classmates to do the same.
(A Frequently Asked Questions page provides additional information about the tool, but if you have any additional questions or feedback, please contact [email protected].)